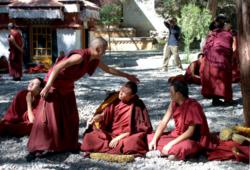 Visit Lhasa on tight budget and schedule! Local agency offers monastery and culture tours in Tibet!
(PRWEB) June 15, 2013
Many who visit Tibet are on tight travel schedules, crossing all of Asia in just a few short weeks. The wonder and mystery that shrouds Tibet is a draw for millions each year, but the reality is that when travelling from country to country on a tight schedule it can be difficult to fully take advantage of time at each destination. To help travelers on a tight schedule maximize the value of their time, Tibet Ctrip Travel Service-TCTS (http://www.tibetctrip.com), one Lhasa based Tibet travel agency now offers a quick four-day tour of Lhasa and the surrounding area. The quickest way of arriving in Tibet is by air and after a night of acclimatization travelers are ready to begin sightseeing.
Day 1: The Tibet tour begins here! One of TCTS's native Tibetan guides will meet travelers at the airport and accompany them to their hotel. This is a good time for resting and acclimatizing to the altitude. While travelers are more than welcome to explore Lhasa on their own, TCTS advises them to keep walking light and drink lots of water.
Day 2: Sightseeing begins! In the morning, the group's native Tibetan guide will meet them at their hotel and then take them on a tour of Potala Palace. Next, it's a short walk to Jokhang Temple. Today is a great day for becoming oriented with Tibetan culture and history. On a tour of Tibet, travelers will learn a great deal and are encouraged to ask their guide questions.
Day 3: More sightseeing! Today travelers will visit Drepung Monastery, which was once of the largest monasteries in the world. After lunch, the group's guide will accompany them to Sera Monastery to see the famous debating monks.
Day 4: Depending on traveler's departure time, there may be time for last minute shopping and exploring. The travel group's native Tibetan guide will see them off at the airport. Interested travelers can extend their adventure with TCTS to China or Nepal.
Just a few days in Tibet can be an incredibly valuable use of limited travel time! Busy travelers can get in, see some of Lhasa's most famous Tibet Attractions, and then fly out to their next destination. TCTS itineraries are fully customizable, even for a quick four-day tour; travelers are welcome to ask their tour advisor how they can customize their own tour. With summer in Tibet rapidly approaching, travelers are advised to start planning their tour now.
Devin Moore provided this news release above on behalf of local Tibet tour agency TCTS (tibetctrip.com). Devin is a travel writer and independent economic analyst based in Springfield, Missouri USA. His economic research is currently focused on airfare pricing. Devin Moore works to spread awareness of Tibet and its people through publishing Tibet travel information.