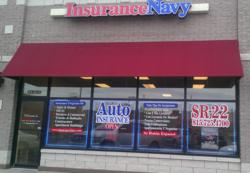 Besides the information about the auto insurance in Illinois, the website is further connected to the company's main rating engine which allows all Illinois consumers seeking car insurance rates in Illinois to get their quotes instantly
Chicago, Illinois (PRWEB) October 14, 2012
An Illinois auto insurance information website, insurancenavy.info, was launched yesterday by Insurance Navy, a leader in providing auto insurance quotes in Chicago and Northwest Indiana. The website offers information and links about the history of liability car insurance in Illinois, Illinois car insurance claims, car insurance companies in Illinois, tow truck insurance quotes in Illinois and used car dealers in Indiana and Illinois.
Fadi Snenneh Spokesman for Insurance Navy said that "while there is goal of the website is to provide information, links and other resources for consumers that are not found as often on other commercial sites." "We will keep it basically informational by allowing other selected participants to post their informative blogs," Snenneh added.
Besides the information about the auto insurance in Illinois, the website is further connected to the company's main rating engine which allows all Illinois consumers seeking auto insurance rates or SR22 insurance quotes in Illinois to get their quotes instantly, from the privacy of their home, in less than five minutes on the average. This can be a big time saver for people who have less time to travel to a physical location or for people with limited time. The nicest feature for this web based rating system is the ability to perform multiple and instant quotes from several insurers in the State of Illinois, without multiple data entry.
Although there is no current system that will allow to perform instant rates for tow truck insurance in Illinois and car dealers insurance in Indiana, Snenneh said that "InsuranceNavy commercial underwriters are capable of providing fast and accurate calculations for tow truck insurance rates in Illinois and car dealers insurance rates in Indiana; within a couple of hours."
About Insurance Navy Brokers (INB)
INB is a leading provider of auto insurance quotes in Illinois, tow truck insurance quotes, car dealers quotes in Indiana and Illinois, and other personal and business insurance quotes in the States of Indiana, Illinois and Wisconsin. The agency operates several offices in the Chicago and Northwest Indiana area to serves its clients. INB partners with a number of insurers to meet the diverse needs of its clinet.