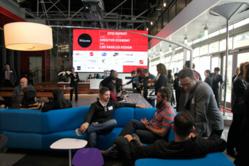 We must proactively invest in the creative economy to ensure our future.
Los Angeles, CA (PRWEB) December 11, 2012
The 2012 Otis Report on the Creative Economy of the Los Angeles Region, released last week by Otis College of Art and Design at Google's YouTube Space LA, once again underscored the impact of creative industries on the local economy. According to the Los Angeles County Economic Development Corporation (LAEDC), from whom Otis commissioned the report, the creative economy is the fourth largest industry cluster out of 66 in Los Angeles County. Driven by arts, design, and entertainment, the creative economy comprises 664,000 jobs and contributes more than $3.3 billion to state and local tax revenues. Projecting a 4.1% increase in creative jobs by 2016, the report emphasizes the need for civic engagement in support of the creative economy.
Chief Economist of the LAEDC Robert Kleinhenz presented the findings of the Otis report, and noted economist and author Ann Markusen presented national models and case studies of city strategies to stimulate and support the creative sector. Mark Lacter of "L.A. Biz Observed" led the guests in round-table discussions and brainstorming sessions focused on new directions and initiatives.
"We must proactively invest in the creative economy to ensure our future," said Otis President Samuel Hoi. President Hoi urged the invited leaders to work together, emphasizing the need to actively incubate and support innovative enterprises in order to grow the creative sector. He stressed that education of the creative workforce is a great socio-economic equalizer. Companies need an abundant workforce of innovators in an idea-driven economy, and local governments need flourishing businesses, jobs, tourists, and revenues. Philanthropic organizations strive for an equitable, sustainable, and healthy society, while academic and non-profit organizations seek to fulfill service-based missions with similar goals. Independent entrepreneurs and creative professionals need a supportive and fertile environment that allows for their ideas to grow and flourish.
The capacity audience of 200 leaders from corporations, creative enterprises, local government, education, non-profits, and philanthropy, exchanged ideas regarding cross-sector collation to grow the regional creative economy. Topics discussed included, integration of arts into K-12 education, youth mentorship programs, public transportation development, regional branding and marketing efforts, technology, STEM to STEAM, incubator spaces like Google's YouTube Space LA, and urban planning and development incentives to nurture creative enterprise.
The 2012 Otis Report event served as a meeting for the recently formed Creative Economy Convergence Task Force, a multi-sector leadership group in support of the creative economy of the Los Angeles region. Otis President Samuel Hoi, Executive Director of L.A. Department of Cultural Affairs Olga Garay-English, and CEO of Creative Space Tyler Stonebreaker co-chair the task force.
Sponsors of the event included Google, Mattel, Boeing, CAbi, City National Bank, Coaster Fine Furniture, Disney, Hurley, The James Irvine Foundation, L.A. Department of Cultural Affairs, Miss Me, Nike, Ovation, San Pedro Wholesale Mart, and Sony Pictures.
Since 1918, Otis College of Art and Design has played a pivotal role in developing the creative economy of L.A. With training programs in Fine Arts, Digital Media, Illustration, Advertising Design, Fashion Design, and more, Otis has been a leading force in creative design and the arts for nearly 100 years. Graduates of Otis College of Art and Design continue to be in the vanguard of the cultural and entrepreneurial life of the region.
About Otis College of Art and Design
Founded in Los Angeles in 1918, Otis College of Art and Design prepares diverse students of art and design to enrich the world through their creativity, their skill, and their vision. The College offers an interdisciplinary education for 1200 full-time students, awarding BFA degrees in Advertising, Architecture/Landscape/Interiors, Digital Media, Fashion Design, Illustration, Graphic Design, Product Design, Painting, Photography, Sculpture/New Genres, and Toy Design; and MFA degrees in Fine Arts, Graphic Design, Public Practice, and Writing. Continuing Education offers certificate programs as well as personal and professional development courses. Additional information is available at http://www.otis.edu.