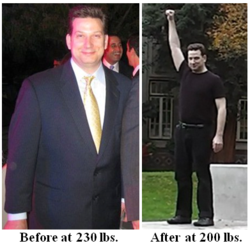 For most, being overweight is a choice. This book helps you understand how to change the way you think about food
New York City, NY (PRWEB) April 11, 2013
Losing weight is never easy, but the team at iLost30.com have made it simpler by adding embedded hyperlink resources to their weight loss ebook. Now users have additional solutions to aid them in their quest to get thinner safely.
Written by former crash dieter Brian Daniels, a California resident, 'How I Lost 30 Pounds Permanently without Dieting or Going to the Gym' is about Daniels' success story of keeping the weight off for good. "I had been struggling with being overweight most of my adult life," says Daniels, "and I was finally tired of all the dieting gimmicks that never yielded long-term results."
Simply put, Daniels devised a way of losing weight without the use of a diet plan, fasting, or diet foods. Essentially, a change in perspective is a major component to being successful in getting thinner naturally. Most people are looking for ways to lose weight fast, and of course those solutions are never permanent.
The new resources in Daniels' book gives readers sustainable ways to use "diet foods" for weight loss – but not in the traditional sense. Instead of buying prepackaged and measured portions of sustenance, Daniels reveals secrets of how he was able to eat what he wanted, when he wanted. And, most importantly, Daniels never walked around hungry because the tricks used fools the stomach into "feeling full" (satiated).
Being overweight causes a number of diseases and other ailments like diabetes, heart disease and even can lead to strokes, so losing weight should be a top priority for obese people. 'How I Lost 30 Pounds Permanently without Dieting or Going to the Gym' also gives readers tools for understanding the psychological components to overeating, so having the knowledge about diet foods, ultimately, helps for long-lasting results.
While Daniels openly admits he's not a medical professional or nutritionist, he swears by his method. "Of course I encourage anyone interested in losing weight to see their doctor first," says Daniels, "but I was just an average overweight man who made some smart choices that resulted in my losing 30 pounds permanently. So I wrote a book to teach others what I did. Several of my friends tried my method and have had great results."
For more information about natural and sustainable weight loss, visit http://www.iLost30.com.