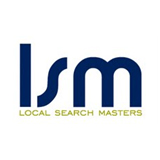 Nashville, TN (PRWEB) April 02, 2013
The first quarter of 2013 has been quite eventful for inbound marketing specialists Local Search Masters. First, the company was nominated as one of the Best Places to Work in Nashville for 2013 by the Nashville Business Journal. Then, in just three months, Local Search Masters gained fifteen new SEO, social media, and paid search advertising clients. In January alone, LSM signed nine of these clients.
Local Search Masters has always worked with a wide variety of companies, and the latest additions are consistent with this trend. The new clients provide a range of products and services, from local floral décor specialists Oshi Flowers to healthcare provider solutions specialists HealthStream to Mobile Music Academy, a company that provides music lessons in the comfort of customers' homes.
President and CEO of Local Search Masters, Trevor Emerson, is very pleased with the company's recent growth. "Everyone at LSM, from our sales force to our operations team, has been working hard to see this recent success. I am confident that we will continue to grow while maintaining excellent quality for all of our current clients."
The Vice President of Marketing at Local Search Masters, Matt Job, also expressed his satisfaction with LSM's most recent successes. "It is an exciting time at Local Search Masters right now. These past few months have been extremely busy and rewarding. We have seen a great deal of growth in this first quarter, and we plan on continuing the hard work in the future."
About Local Search Masters
Local Search Masters is an Internet marketing company based at Cummins Station in downtown Nashville, Tennessee. Founded by co-owners Brad Hill and Trevor Emerson in 2006, the firm provides a variety of services to businesses of all sizes, including but not limited to: search engine optimization, original content creation, social media management, content auditing, paid search advertising campaign management, press release creation and distribution, and online reputation management.