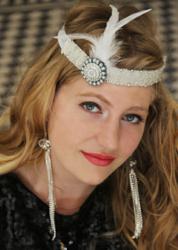 We enjoy inspiring people and created lullubee to unleash the crafter in you.
New York, NY (PRWEB) May 15, 2013
Lullubee, the company known for its high quality, ready-to-make DIY classic craft project kits for teen and adult craft fans, is releasing fifteen new kits for summer, fall and winter 2013 making it easy to have fun while creating. Craft kits range from The Roaring Twenties and Steampunk Jewelry to Needle Felted Fairytale Frog Kit and holiday wreaths.
Lullubee is Crafting Made Easy
Lullubee makes crafting fun and easy by eliminating the guesswork about DIY craft projects. Lullubee designs the craft project, sources the project materials, provides the tools needed to complete the project, shares the crafting techniques in an easy-to-follow video tutorial or step-by-step illustrated instructions and leaves customers with the best part: creating beautiful, unique handcrafted objects.
New from Lullubee:

The Roaring Twenties Kit ($140.00) – Reminiscent of the innovative style and revolutionary fashion synonymous with the 1920's, this jewelry kit comes with everything needed to create one set of 1920's inspired Rhinestone Earrings, a beaded bangle, a flapper headband and a fringe purse.
Needle Felted Fairy Tale Frog ($40.00) – An intermediate kit, the Needle Felted Fairy Tale Frog comes complete with wool, felting tools, doll eyes and more.
French Linen and Rosemary Salt Kit ($38.00) – Add a touch of elegance to the kitchen with this French linen kitchen towel and rosemary salt kit. Kit includes everything needed including fresh rosemary.
Grunge Bracelet Kit ($25.00) – Leather and braided cotton bands combine with metal charms to make grunge or punk style bracelets. Make up to three bracelets with each kit.
Well-Dressed Bear ($35.00) - For the girl (or guy) whose teddy bear has everything, Lullubee introduces the Well-Dressed Bear, a cute and cuddly teddy bear dressed in the finest duds. Outfits may vary slightly.
Felted Mushrooms ($26.00) - Sweet, whimsical mushrooms can be placed around the house for decoration and enjoyment. Lullubee's Felted Mushrooms come complete with beads to decorate their tops and an adjustable necklace - which can be worn solo or layered.
Oh Deer! Kit ($29.99) - Kids love cool bedrooms and nothing is cooler than the Oh Deer room decoration! The stuffed, felt deer head is easy to put together, the colorful, modern twist on the classic trophy will certainly catch your attention.
Steam Punk (Starting at $19.00) – This industrial-chic craft is for all the teenagers (and adults) in your life. Teens will love creating this cool craft on their own, or with a friend. Kits range from earrings to pins. This kit also makes a great birthday gift.
Beaded Collar ($35.00) - Dress up your outfit with a stunning beaded collar-necklace. The detachable collar-necklace is a fashion classic and it's easy to make. The necklace requires attention to detail and patience (the larger size takes 10-12 hours to bead, half the time for the small size). Can be worn with a simple white dress shirt, a t-shirt or even a sweater.
Bow-Tie Jewelry Kit ($22.00) - Be Red Carpet Ready everyday with Lullubee's Bow-Tie Jewelry Kit, which comes with everything needed to make a black-tie appropriate ring, bracelet and necklace. Wear as is or add beading to dress up a casual outfit or put the finishing touches on more formal wear.
Sewing Patterns (Starting at $10.00) – Check out Lullubee's Sewing Patterns with items such as fruits and vegetables that look good enough to eat. It is of Lullubee's signature sewing pattern designs. Lullubee sewing patterns come with instructions and easy-to-follow, step-by-step illustrations.
Gnomes (Starting at $15.00) - Brand new! This magical print is exclusively Lullubee's. Available for the first time and comes in creative offerings including fabric and wrapping paper.
Zombie Masks ($22.00) - Be the coolest kid at this Fall's Halloween Party or your next Zombie Run with Lullubee's customizable Zombie Masks.
Holiday Wreaths ($25.00) - Create new traditions and get in the holiday spirit with Lullubee's Holiday Wreaths. Made from fabric, these delicate beauties will get attention to every passerby and help make guests feel warm upon entry to any home.
Craft of the Month Club: A subscription kit service that allows customers to receive a new Lullubee craft project every month which is designed for adults with limited experience in crafting and sewing (Intermediate skill level). Free shipping is available on all monthly craft kits.
All of Lullubee's project materials have been sourced from around the world to ensure the finest materials available for each project that make little impact on the environment. Craft projects range from basic to advanced skill levels to be enjoyed from ages 13+.
Press Contact: Stephanie Scott, First and Last PR: 201.569.2080. To learn more about lullubee, please visit http://www.lullubee.com.
About Lullubee:
Founded in 2012 by Tiffany Dekel and Laura Lee Burch, Lullubee was created to make it easier for you to start crafting. Lullubee offers a line of classic craft kits and monthly subscriptions. Lullubee's kits feature easy-to-follow tutorials and all the materials you need. Gift subscriptions are also available.