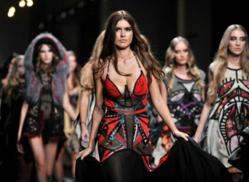 "What is the difference between a famous designer and a really phenomenal yet unknown designer?"
West Orange, NJ (PRWEB) October 04, 2012
Has anyone ever wanted to live in one of those glamorous commercials you see? Perhaps to be like one of the most interesting men in the world or a Russian oligarch with tiny giraffes and scantily clad ladies? Maybe it's time to live vicariously through MAXAMAXIM.COM
Backstage at a fashion show in Moscow, on an island in the Adriatic Sea or hanging out with Croatians in Astoria NY, this is "A life less ordinary". Discovering Croatian Fashion Designer Juraj Zigman is definitely a favorable moment in time. First arranged to meet at the Hemingway Bar near the national theater in Zagreb, but with miscommunication with his assistant, Martina, who happens to look like the Croatian version of the Izzy, from a popular costume design reality show in the U.S., the meeting takes place at Matija Vuica's studio who is herself a phenomenal luxury fashion designer from Croatia.
He's mesmerizing yet somewhat a cliché. That typical designer that is carelessly playing with his unique hair and talking about his inspiration for his latest collection. Only ZIGMAN, is an enigma nothing else! To marry him instantly and share a bank account all of the sudden seem logical. Well maybe just buy everything he has ever and will ever design. Yes, he is that good. Godspeed!
So what is the difference between a famous designer and a really phenomenal yet unknown designer? Finance? – Financial backing like a presidential campaign in the U.S. Or is it simply getting the latest starved celebrity from Hollywood to wear a dress?
Designers from former communist countries are intricate and intoxicating. Cro A Porter Fashion show held in Zagreb, Croatia and Mercedes-Benz Fashion Week, Russia are platforms for these designers. Feeling a sense of pride for them and what they strive to accomplish going forward in the future comes naturally. Exposing them and bringing their delectables to socialites, celebrities and those who covet anything unique is just a start.