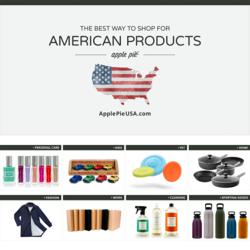 Shopping for American products used to be hard. Not anymore.
Seattle, WA (PRWEB) April 04, 2013
Apple Pie has launched a new shopping site geared exclusively for products and brands made in USA. With thousands of American products and a long list of brands, Apple Pie is the best way to shop for American products.
The company believes demand is growing. "Shopping for American products is something people want to do, but it has been hard, not with Apple Pie," said Brant Williams, Co-founder of Apple Pie. "People across the political spectrum realize that an increased manufacturing base in the US is good for the country," "Buying domestic, regional and local goods increases employment and economic health of the country as a whole. We're excited to be a vehicle for US manufacturers to sell their wares, and a destination for shoppers to find those products".
Apple Pie carries products from a growing list of American brands and is bringing on new products each week. The product selection is already impressive, with items ranging from daily essentials to top quality designer goods. Whether you're looking for dog treats or dish soap, baby balm or water bottles, Apple Pie has something for every budget and taste.
"We have a deep understanding of the challenges US manufacturers face when trying to make their products available to the masses, "said Co-founder David Stober. "Before Apple Pie, many American manufacturers were limited to sell through small and niche channels. Now, with Apple Pie, we offer them a mass market channel with a captive audience." said David Stober.
ABOUT APPLE PIE
Based in Seattle, WA, Apple Pie is an online retailer committed to boosting the US economy by being is the best way to shop for American products.