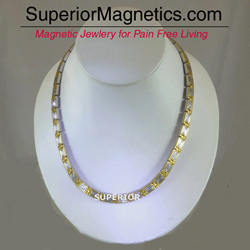 I am amazed the way the magnetic necklace prevents my headaches
Boston, Massachusetts (PRWEB) April 27, 2013
Pain Free Living - SuperiorMagnetics.com an innovative leader in developing alternative pain relief products announced a new magnetic necklace for pain relief. This new magnetic necklace for headaches and arthritis uses the 5000 Gauss neodymium rare earth magnets. Customers are reporting pain relief for headaches and arthritis in the neck and shoulders with the new magnetic necklace. Pain Free Living with Superior Magnetics offers free demonstrations with the magnetic necklace at various shows.
"I have used magnetic necklaces for 12 years" explained Cricket Arvilla of SuperiorMagnetics.com, "and am amazed the way the magnetic necklace prevents my headaches. We often allow our customers to wear the necklace around for an hour. They return impressed and ready to purchase the necklace. For those unable to visit us for a demonstration, our magnetic necklace is available at SuperiorMagnetics.com."
For information on the new magnetic bracelet, go to:
http://www.superiormagnetics.com/greek-key-stainless-sg-5000-gauss-magnetic-necklace/
What is a magnetic necklace and what are the magnetic necklace benefits?
A magnetic necklace is a therapeutic piece of jewelry, worn for the benefits the magnetic field can offer. There is a magnetic field in the DNA of every cell in the human body. Bodies produce and use electricity. As aging occurs in the body, it produces less electricity. As a result, human tissue is depleted of electrons and negative ions causing it to become acidic. This acid buildup causes inflammation. This magnetic necklace has 42 rare earth magnets in 20 3/8" length to assist in restoring the proper PH balance to the tissue. Magnetic necklaces are being used successfully by many people for pain relief of inflammatory conditions such as headaches, arthritis and bursitis.
About SuperiorMagnetics.com magnetic necklaces for Pain Free Living
Pain Free Living, a 12 year veteran of the magnetic pain relief industry can be seen at fairs and festivals. Free demonstrations of pain relief are available in these locations. Their innovative magnetic necklaces are available online at SuperiorMagnetics.com. This new magnetic necklace is the best magnetic necklace for inflammatory conditions (headaches, arthritis, bursitis).
Contact Superior Magnetics for magnetic necklaces
Pain Free Living
Web: http://www.superiormagnetics.com
Tel: +1 909 336-7514