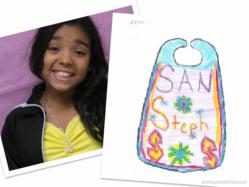 I am giving my children the gift of giving this holiday, and I am hoping it becomes a tradition.
New York, NY (PRWEB) December 05, 2012
New York-based startup Makeably has partnered with New York Cares to give children the opportunity to design their dream gifts, which will be made by Makeably's community of makers and funded by donations from sponsors all over the world.
Makeably, a new online marketplace for creating custom gifts and thoughtful creative goods, has launched its first annual Make for Good campaign, allowing donors to fulfill the holiday wishes of one hundred children in need ages 4-10 living in the New Settlement Apartments Program in the Bronx.
Given a choice of a superhero cape, animal hat, animal pillow or pair of shoes, each child sketched a design of their ideal item, and Makeably has published a page for each child's gift. So far, nearly half of the projects have been sponsored: the most popular projects have been custom super hero capes by Pip and Bean of Bloomington, Indiana, dinosaur stuffed animals by My Geeky Boyfriend of Los Angeles, California, owl pillows by Un Petite Lapin in San Antonio Texas, and custom crocheted animal hats by My Sweet Potato 3 of Boise, Idaho. For example, Alexander, age 8, drew a black cape with a large yellow lightning bolt running through it. Tania, age 10, drew blue and red painted shoes with her name and hearts, and the shoes have already been created by maker Kathy's Kicks of Wylie, Texas. All the gifts will be delivered to the children in late December.
Donors are coming up with creative ways to give by including their own ideas to build on the children's drawings, as well as by having the gifts made on behalf of others. According to Kathy Wicks of Northampton, Massachusetts, who sponsored an owl pillow on behalf of her own kids, "I am giving my children the gift of giving this holiday, and I am hoping it becomes a tradition." Lisa Jiang, a sponsor from Brooklyn, New York, said, "I love that I can be a part of creating something for a kid who wouldn't otherwise be getting much this holiday season. They'll never forget the year that their own drawing turned into something real."
Makeably was started by former Googlers Ryan Hayward and Anastasia Leng in September 2012. Since launching, Makeably has more than doubled its number of makers from around the world and, in the past few weeks, has seen the number of initiated custom projects grow by 300% as the holiday season has approached. Aside from the Make for Good project, Makeably's makers create everything from custom bowties and visual art, to custom lighting fixtures, wedding decorations and more. Makeably is donating 100% of its profits from Make for Good to New York Cares.
To sponsor a gift, anyone can visit http://www.makeably.com/makeforgood now through December 17.
About Makeably:
Makeably is a curated online marketplace for custom made goods. Users who come to the site can collaborate with Makeably makers to create something specifically for themselves, and every item is custom and one-of-akind. Started by former Googlers in September 2012, Makeably has hundreds of custom project options from independent makers around the world. Makeably has been featured as part of the 'maker movement' trend in The Atlantic and Trendwatching, in design-focused blog Swiss Miss, and in startup technology publications including TechCrunch and The New York Observer's Betabeat.
About New York Cares:
New York Cares was founded by a group of friends who wanted to take action against serious social issues that faced our city in the late 1980s. Finding few options to help, they created their own organization to address the problems from the ground up. New York Cares is now the city's largest volunteer organization, running volunteer programs for 1,300 nonprofits, city agencies, and public schools. Today's volunteers share our founders' vision that we all have a role to play in making our city a better place.