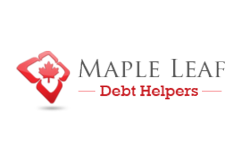 Consumers who struggle to control their monthly expenses and worry about their long-term financial security should read on to learn more about staying on budget and out of debt trouble.
Toronto, ON (PRWEB) December 06, 2012
A recent survey from the Canadian Payroll Association confirms the worst fears of many downtrodden Canadian families. According to the study, nearly half of the country's workers live on a paycheck-to-paycheck basis. They carry no significant savings and may be one missed day of work away from serious financial trouble.
Maple Leaf Debt Helpers is committed to improving the financial outlook for families across this great country. In that spirit, the company has just released a new tip sheet that reveals five solid strategies for staying on budget. Consumers who struggle to control their monthly expenses and worry about their long-term financial security should read on to learn more about staying on budget and out of debt trouble.
1. Shop More Thoroughly
Savvy consumers stretch their monthly shopping budgets farther by making fewer shopping trips. They cut down on unnecessary in-store expenditures by making a comprehensive shopping list before every visit to the supermarket or department store. They pick an exact number of days to cover with each shopping trip and carefully list everything that they might need during that period of time. Crucially, they buy all of these items in one trip and don't return to the same store until the target period has expired. Shoppers who forget to include an item on their list often buy other unnecessary products when they return to the store.
2. Use Debit or Cash
Regardless of what they're buying, savvy customers refrain from using high-interest credit cards to fund their purchases. It's important to remember that any perceived benefits of a credit card will disappear once it develops an ongoing balance. Consumers who habitually run credit card balances should concentrate on paying them down rather than making new purchases.
3. Build a Savings Fund
A savings cushion should be the cornerstone of any sustainable budget. This is true even for consumers who consider themselves part of the 50 percent of Canadians who currently lack meaningful savings. Every Canadian should have $1,000 in his or her personal emergency fund. This "rainy day" fund should be used only to pay for unexpected expenses that fall outside of the purview of a typical budget. Over the long term, every Canadian should aim to save 5 percent of his or her monthly income.
4. Eat Fewer Restaurant Meals
Restaurant meals are more expensive than meals cooked at home. Cash-strapped Canadian consumers should set an immediate goal of reducing the number of restaurant meals that they eat by a factor of two. For larger families, this could save hundreds of dollars per month. Consumers who successfully tighten other areas of their budgets can increase the number of restaurant meals that they eat as their finances permit.
5. Switch to Generic Products
There are dozens of generic products that function just as well as their name-brand counterparts. Common examples of adequate generic products include pastas, beans, soaps and detergents. The typical Canadian consumer could save $150 or more per month simply by switching to these affordable alternatives.
Canadians everywhere should use these budget tips to begin building a solid financial foundation for the future. Debt-burdened consumers who wish to learn about different debt relief options to use in conjunction with a frugal household budget should talk to Maple Leaf Debt Helpers today.
Maple Leaf Debt Helpers offers customized debt settlement plans that can dramatically reduce its clients' total debt loads. In the past, the company has been able to slash its clients' balances by 40 to 60 percent in as little as one year. Credit card balances and other types of unsecured debts are eligible for settlement with Maple Leaf Debt Helpers.
To discover the benefits of enrolling in a debt settlement plan with Maple Leaf Debt Helpers, call 1-877-710-3328 or fill out the free consultation form on its website today.