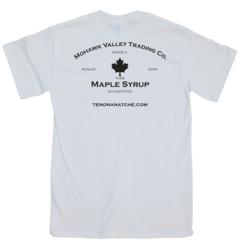 We have T-shirt give aways all the time, they are a great way to get your name out there. - Mary Ross, The Mohawk Valley Trading Company
(PRWEB) May 16, 2013
In their effort to support and promote maple sugaring, sustainable agriculture, local, small and family owned farms and other local food sources, Crooked Brook is offering a 15% discount off maple producer logo or label custom printed t-shirts from 5/16 to 5/23/2013 with the promo code "523013".
Custom t-shirts are one of the most inexpensive yet cost effective marketing tools available. One of the advantages they have over other promotional products is that wherever people wearing t-shirts with a logo or slogan on it go; the brand or message goes. It is a great way to build awareness about a cause, goods or services.
"We have T-shirt give away all the time," said Mary Ross of the Mohawk Valley Trading Company where their maple syrup is made primarily from sugar maple sap. "they are a great way to get your name out there."
Although the most popular method of printing t-shirts is screen printing, Crooked Brook t-shirts are printed using Direct To Garment Printing (DTG) which is the process of using inkjet printers to print an image directly onto t-shirts without the use of screens like with screen printing, which requires a lot of setup e.g., creating screens for each color. In addition, DTG printing uses eco-friendly, water soluble ink, unlike some screen printing methods that layer Plastisol (a suspension of PVC particles in a plasticizer) on top of the t-shirt. The only requirement for DTG printing is for the image to be high resolution, resulting in photograph quality printing with no setup fee or minimums for custom t-shirts.
About T-Shirts
The t-shirt evolved from undergarments used in the 19th century, through cutting the one-piece "union suit" underwear into separate top and bottom garments, with the top long enough to tuck under the waistband of the bottoms. By the Great Depression, the t-shirt was often the default garment to be worn when doing farm or ranch chores, as well as other times when modesty called for a torso covering but conditions called for lightweight fabrics.
T-shirts, with and without buttons, were adopted by miners and stevedores during the late 19th century as a convenient covering for hot environments.
T-shirts, as a slip-on garment without buttons, originally became popular in the United States when they were issued by the U.S. Navy during or following the Spanish American War. These were a crew-necked, short-sleeved, white cotton undershirt to be worn under a uniform. It became common for sailors and Marines in work parties, the early submarines, and tropical climates to remove their uniform "jacket", wearing (and soiling) only the undershirt.
Named the t-shirt due to the shape of the garment's outline, it soon became popular as a bottom layer of clothing for workers in various industries, including agriculture. The t-shirt was easily fitted, easily cleaned, were made in various colors and patterns and inexpensive, and for this reason it became the shirt of choice for young boys.
About Maple Syrup
Next to honey, maple syrup is the most popular natural sweetener in North America and its production predates European colonization. Early Native American societies in Canada and the northeastern United States were distilling maple tree sap making maple syrup and sugar before those geographic boundaries existed. Maple sugar is made from the controlled crystallization of maple syrup and takes several forms. There is no written record of the first syrup production but several native legends persist. Many tribes celebrated the short maple sap collection season with specific rituals.
The Native Americans collected maple sap from v-shaped notches carved into maple trees. The sap was diverted into birch bark buckets using bark or reeds. It was concentrated by placing hot stones into the buckets or by freezing the sap and removing the ice, which is composed only of water.
When Europeans reached northeastern America, they adapted native techniques to make their own maple syrup. The v-shaped notches were replaced with auger-drilled holes. This practice is less damaging to the trees. Bark buckets were replaced with seamless wooden buckets carved from lumber rounds. The method of sap concentration also changed from passive to active. Large amounts of sap were collected and brought to a single area where it was boiled over fires in round cauldrons until reduced to the desired consistency. 'Sugar shacks' were built expressly for the purpose of sap boiling. Draft animals were often used to haul fire wood and large containers of sap for sugaring. Maple syrup was an important food additive in early America, because imported cane sugar was not yet available.
In the mid-1800's syrup production changed again. Round cauldrons were replaced by flat pans in order to increase surface area and therefore allow for faster evaporation. Over the next 60 years, several variations on this design were patented. Draft animals were replaced by tractors and heating methods expanded to include propane, oil and natural gas as well as wood.
The 1970's represent another period of major changes in maple syrup production. Plastic tubing running directly from trees to the sugaring location eliminated the need for energy and time intensive sap collection. Reverse osmosis and pre-heating made syrup production more efficient. Recent advances have been made in sugarbush (maple trees used primarily for syrup production) management, filtration and storage.
There are two well-known systems of maple syrup grading in use today. One system is used in Canada (where 80% of the world's maple syrup is produced) and another system is used in the United States of America. Both systems are based on color and translucence which relate to the flavor of the syrup. Different grades are produced by the same trees over the length of the season.
French toast, waffles, pancakes or oatmeal are regularly served with maple syrup and it is used as a sweetener or flavoring ingredient in baked goods and ice cream. Since maple syrup recipes usually do not specify any particular grade to use, take into consideration that darker colored syrups will produce dishes that a have a pronounced maple flavor.