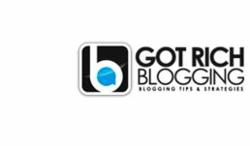 Not only can E-books offer a financial boost to their writers, they can be a great reputation building vehicle.
FORT LEE, New Jersey (PRWEB) April 26, 2013
The newest contribution to the GotRichBlogging.com online blogging advice site offers readers advice and insight on writing an E-book that provides the kind of expert information on a particular topic that will make readers take notice. Titled "Using Your Blogging Skills and Expertise to Write an E-book that Sells," the article explores the do's and don'ts of E-book writing for beginners,
E-books are book-length publications that are published in an electronic format and have proven to be highly profitable for some writers. Not only can E-books offer a financial boost to their writers, they can be a great reputation building vehicle, putting the writer's knowledge and expertise in front of a wide audience.
According to Marble Media guest blogger Liz Ernst, not all niches of business can benefit from an E-book. People who make a living writing news and current events probably wouldn't benefit from writing an E-book, since news is a daily-changing subject.
"E-books work best for websites that provide guides and tutorials," Ernst says. "Even if your site doesn't specialize in these types of publications, you can use an E-book as a means to educate people on a topic in which you have expertise."
Ernst reminds readers that writing an E-book is not easy, but it's also not prohibitively difficult for a skilled writer either. Writing a marketable E-book requires some research and a "nose to the grindstone" approach to make sure the quality and potential for profitability are there.
"In blogging, E-book writing and all types of writing for that matter, quality is king," Ernst says. "If you have 10 pages of professionally written, high quality content, you should never feel the need to "fluff it up" in order to make it 50 pages."
For more information on starting and maintaining a successful blog, visit the GotRichBlogging.com website or email info(at)GetRichBlogging(dot)com.
About Marble Media LLC:
Marble Media LLC is a creator of high-quality, content-rich blog sites that provide expansive coverage of relevant information to readers who make up a wide range of demographics. The Marble Media LLC team of expert writers covers a wide range of specialties including travel, food, health, fitness, social media, marriage, parenting, technology, weight loss, fashion and much more.
For more information on Marble Media LLC's offerings and advertising opportunities, visit the MarbleMediaLLC.com website, or email sales(at)marblemedia(dot)com.