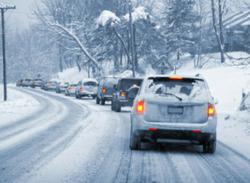 Don't get stuck in the snow this winter with Mercedes winter tyres
Stevenage Hertfordshire (PRWEB UK) 19 December 2012
Mercedes-Benz Hertfordshire is ensuring that customers of its Retailers in Bishop's Stortford, Hertford and Stevenage get to grips with driving in the current bad weather and over the winter months ahead by promoting a range of Mercedes winter tyres.
The group's retailers are able to supply winter tyres for all models in the extensive Mercedes-Benz range. So much more than just snow tyres, mercedes cold weather tyres are designed specifically for use where temperatures drop below seven degrees Celsius.
Grip of the Mercedes winter tyres is optimised through the use of higher levels of silica than normal in their construction, which enhances the suppleness and tyre contact patch at low temperatures. They also feature a different tread pattern to help them cut through the likes of snow and slush.
Mercedes-Benz Hertfordshire Retailers can advise on the many types of cold weather tyres, and wheel and tyre combinations, which are available. Customers will find that specialised cold weather tyres are surprisingly affordable, but they can rest assured that they offer a priceless level of care.
Having a set of tyres purely for the winter months may seem a bit extreme to some motorists, but cold weather tyres provide Mercedes-Benz owners with the very best grip in bad conditions and their performance can be the final factor in drivers avoiding even a minor incident.
Stopping distances from 50mph on a cold wet road are up to six metres shorter for a car on cold weather tyres than on regular tyres, while in icy conditions stopping from only 20mph can be improved by 11 metres.
For customers who want to make their Mercedes-Benz even more suited to winter driving, Mercedes-Benz Hertfordshire Retailers have the perfect solution – the fantastic M-Class SUV that has permanent four-wheel drive and a number of advanced driver aid systems.
As the ultimate Mercedes specialist Hertfordshire and the only facility in its region to have its Retailers officially endorsed by the manufacturer, Mercedes-Benz Hertfordshire can supply the full line up of new M-Class models. In addition, the group always has a vast selection of used Mercedes M-Class Hertfordshire for sale in its extensive stock of Mercedes-Benz used cars, which also includes everything from used A-Class to used S-Class and the ideal solution for anyone looking for a used AMG model to a Mercedes convertible for sale.
---------------------------------------------------------------------
David Newman - Digital Marketing Executive
Mercedes-Benz of Stevenage : +44(0)1438-737800
Mercedes-Benz of Bishops Stortford : +44(0)1279-719333
Mercedes-Benz of Hertford : +44(0)1992-514444