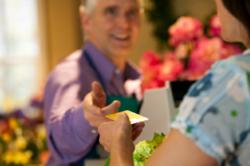 Research and dedication is at the forefront of Merchant Data Systems' strategy. With their deep understanding of E-commerce trends, they are able to offer merchants a unique and personally-tailored service pack that meets all of their needs.
El Paso, TX (PRWEB) April 21, 2013
Merchant Data Systems is expanding their payment processing services past traditional credit card processing and into the new wave of small business with mobile payments and e-commerce. As a leading provider of merchant services since 1997, MDS provides over ten ways for merchants to manage capital. Merchant Data Systems now delivers new innovative technology with premier service to florists and other merchants across the nation. Expanding services to businesses in all industries, MDS is focused on building services that benefit small and local businesses. Local retail companies will benefit from a company that provides not only credit card processing, but also premier services like payroll solutions, on the go payments, and shopping carts. Drew Freeman, President at Merchant Data Systems, mentions, "Research and dedication is at the forefront of Merchant Data Systems' strategy. With their deep understanding of E-commerce trends, they are able to offer merchants a unique and personally-tailored service pack that meets all of their needs."
Mobile Credit Card Processing
The ease of multiple payment processing options becomes valuable when a small business owner wants to attend a local event. When a retail store already has a credit card machine but wants to attend an offsite event, MDS has a solution. A florist can sell flowers at a local fair, attend a bridal show, or take credit card payments on their smartphone when they deliver. With mobile credit card processing, it is easy for a business owner to decide to attend a sporting event, and collect payments on a smartphone. Mobile payments free a business owner from staying stuck to counter in a store. It allows them to take their business on the move. Hosting events, attending shows, and providing options for the customer is one of the many reasons why accepting payments on a smartphone is beneficial to small businesses, like florists.
With MDS, there are no new vendors, no long wait times, only excellent service. By providing a comprehensive bundle of every payment processing services a small business could need, the hassle of finding new vendors is relieved. A new service can be turned on without the stress of new account set up.
E-Commerce
Mobile payments are just one of many services MDS provides that benefits a small business. In addition to payments on the go, online merchant accounts are available. Opening a website with e-commerce abilities can be quick and painless. One of the most difficult tasks of enabling online shopping, for small merchants, is the lack of knowledge on how to collect payment. With hundreds of shopping cart options available for small business owners, it could take months before their website was ready to accept credit cards online. For example, a florist may want to accept deposits, installments, and final payments online. Another example would be selling Get Well, and Congratulatory floral arrangements online for delivery. This would be a powerful way for a florist to grow their business and increase their capital.
By providing additional options to brick and mortar credit card terminals, businesses can develop their products, services, customer base and more. MDS provides not only the shopping cart, but also web design and web hosting. Building a presence online could not be easier with a partner who can create the website, host it, and process digital payments. Payments include credit cards, debit cards, and even checks. The amount of work MDS puts into a website is comparable to hiring a full time employee – for a fraction of the cost. Processing is secure and encrypted, and the rates are low.
Real-time POS Inventory Management System
POS integration is available for merchant processing. Knowledge of real-time data can help manage capital, increase sales, and improve return on investment. MDS provides integration with most major POS systems as well as custom solutions to fit business needs.
Award Winning Service
As business industries grow and develop, the MDS solutions are available to help entrepreneurs without the need for additional vendors. World class customer service is available 24/7 to help small businesses. From helping with payroll after the shop has shut down and employees have gone home for the day to setting up on-the-go payments on Saturday morning before an event, MDS has the professional knowledge and availability to provide the busy retail store with service after normal business hours. A small business owner does not have the time to make calls regarding payroll solutions, or mobile credit card processing while they are running a business for 12 hours a day. MDS understands and wants to help them succeed.
Traditional services delivered by MDS are solid options to start building a successful business relationship. Credit card and debit card processing on credit card machines, merchant cash advance, invoicing solutions, automated account settlement, check guarantee, electronic check conversion, electronic benefits transfer, POS equipment sales & leasing, merchant cash advances, proprietary gift card and loyalty programs and PCI compliance solutions.
MDS lets the small business plan how to grow and then provides the tools in order for them to get paid. New and startup businesses can start using the MDS service in as little as 30 days.