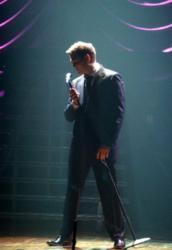 QueenBeeTickets.com has released an impressive selection of Michael Buble tickets for sale and they have been priced to sell.
Germantown, WI (PRWEB) May 14, 2013
Earlier this month, the singer announced on The Ellen Show that he would be embarking on a tour in the United States for 2013. Tour dates have already been confirmed in 40 cities in North America. Fans who are searching for Michael Buble tickets for sale will appreciate the ticket prices and selection at QueenBeeTickets.com.
Michael Buble concert tickets are available for shows in September, October and November of this year. The tour is scheduled to begin on September 7 in Chicago and end on November 30 in Oakland. Along the way, Buble has confirmed performances in Kansas City, St. Louis, Detroit, Philadelphia, Brooklyn, San Antonio, New Orleans, Salt Lake City, Tampa, San Diego and numerous other cities. QueenBeeTickets.com is already offering discounted Michael Buble tickets, and the selection will increase even more as additional tickets are released to the public.
When fans purchase Michael Buble concert tickets, they will have the opportunity to hear selections from the artist's latest album. "To Be Loved," Buble's eighth studio album, was released in the United States on April 15 of this year. The album's impressive sales made it Buble's fourth consecutive albums to debut at number one on the Billboard charts.
In addition to hit tracks from "To Be Loved," like "It's a Beautiful Day," Buble will also be including some of his greatest hits from the last several years on this tour. The Michael Buble tickets for sale for previous tours have disappeared quickly, and high sales are also expected for this year's tour.
In addition to his mesmerizing singing voice, Michael Buble is also a talented songwriter. He wrote four of the tracks on "To Be Loved," and cover versions of 10 other songs complete the album.
The pre-sale for Michael Buble concert tickets officially begins on Tuesday, May 14. However, fans will be able to find discounted Michael Buble tickets at QueenBeeTickets.com before, during and after the on-sale periods. Since QueenBeeTickets.com has partnered with the largest ticket exchange on the Internet, the site is able to offer a huge selection of discounted Michael Buble tickets and other hot concert tickets.
Company Info:
QueenBeeTickets.com has built a reputation for excellence by offering a fabulous selection of event tickets at low prices. When customers visit QueenBeeTickets.com, they can choose from millions of concert, sports, theater and other popular event tickets. Shipping is quick and secure through FedEx, and customer satisfaction is always guaranteed. Other hot sellers from this provider include Backstreet Boys tickets for the 2013 In A World Like This Tour and Justin Timberlake tickets for the 2013 20/20 Experience World Tour.