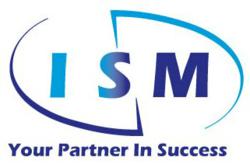 Adding Microsoft Dynamics CRM gives our customers another option, strengthens our position as a trusted advisor, and supports our goal of delivering technology solutions for our clients' entire organization – front to back.
Phoenix, AZ (PRWEB) February 05, 2013
Information Systems Management (ISM), a nationally recognized ERP and CRM business software provider, has announced the addition of Microsoft Dynamics CRM to its product portfolio. The company says that adding Microsoft Dynamics CRM completes their lineup of CRM software options which also include Sage ACT!, Sage CRM, and Sage SalesLogix CRM.
Robert Fierros, VP Sales and Marketing at ISM, says that Microsoft name recognition played a role in their decision to add the popular CRM software application. Plus, the option of implementing Dynamics CRM on-premise or in the cloud adds to the value proposition for their clients. "Giving customers and prospects another CRM option - especially when it's a market leader - was the right thing to do. It strengthens our position as a trusted advisor and supports our goal of delivering technology solutions that service our clients' entire business - from sales and marketing in the front office to accounting and operations in the back office."
ISM's move coincides with recent acquisitions made by Microsoft that will add marketing automation and social media integration to the Dynamics CRM platform. The company sees Microsoft's investment and growth in collaborative media to be a strong indicator of the direction of the marketplace for such tools. Fierros says, "Microsoft is investing heavily in Dynamics CRM and has recently made important acquisitions that will add cutting edge features our customers will benefit from."
While Microsoft Dynamics CRM offers extensive features out of the box, the look and familiarity of Microsoft Office, and deployment options in the cloud or on-premise, ISM says their motivation was something other than product features and functions according to Fierros. "ISM is traditionally recognized for our expertise with accounting and ERP applications, but we want people to know that we've always been more than that. Positioning ourselves as a complete, end-to-end technology solutions provider is essential for us. Adding Microsoft Dynamics CRM is like shouting out loud to the world that ISM has the right technologies, IT services, and expertise to meet the needs of your entire organization - front to back."
Visit http://www.goism.com for more information about the company or the business software solutions they implement and support.
About Information Systems Management (ISM)
ISM began as a small business with one vision in mind: "Simple answers to difficult questions." Their goal was to convert complex technology into tangible business value so their clients get more work accomplished using fewer resources. Keeping that same vision in mind, today ISM has grown to become one of the top Sage resellers and business technology providers in the country.
Their diverse professional staff is uniquely qualified to support all major areas of business technology including Customer Relationship Management (CRM), Accounting, and operations (ERP), and Human Resource Management and Payroll (HRMS). They also implement the most widely-used business and accounting software applications on the market including Sage 100 ERP, Sage 300 ERP, Sage 500 ERP, Sage ERP X3, Sage CRM, Sage SalesLogix CRM, Sage ACT!, Sage Fixed Assets, NetSuite Cloud ERP, and Microsoft Dynamics CRM.
Go to http://www.goism.com to learn more about ISM.