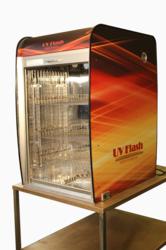 100% kill rate on C.diff, Staff, MRSA, with Midbrook's UV Flash, 60 SECOND Infection Prevention Station.
Jackson, MI (PRWEB) February 21, 2013
Hospital acquired infections (HAI) continue to be a big problem for the medical industry. Just one HAI can cost a facility thousands of dollars to treat and insurance companies are no longer reimbursing hospitals for those expenses. There have been more and more lawsuits being brought against hospitals and healthcare facilities by people who contracted a HAI while they were a patient in the facility. Hospital acquired infections need to be addressed with greater urgency in order to cut down on the amount of people who become ill and the amount of money spent on treating them.
Midbrook Medical is releasing a new product specifically designed to address this problem. UV Flash, 60 Second Infection Control Station is a patent protected unit that quickly and effectively disinfects medical tools and common products using Ultraviolet C rays (UVC) in a short 60 second cycle.
While Ultraviolet C light is not a new concept, the combination of UVC light with the mirror polished aluminum chambered interior design, is state of the art. Bacteria ridden instruments can be placed into the UV Flash unit and in 60 seconds the piece will once again be clean and ready to use for the next patient. The UV Flash unit does not use harsh chemicals and it does not give off any harmful fumes. The UVC light will work only when the door is shut and the cycle has started. If the door is opened at any point during the cycle, the lights will automatically shut off and will not do any harm to those nearby.
Midbrook's UV Flash is an effective and effecient disinfection unit for medical instuments, patient care items, and is also great to use to disinfect commonly used items. Cell phones, stethescopes, writing instruments, and the like, are all safe to place in the UV Flash. There is no microorganism on earth that is resistant to the ultraviolet germicidal light used in this station, including MRSA, C. difficile and Staff infections.
Hospital nursing stations, ICUs, clinics and medical offices are beginning to use the station to aide their infection prevention efforts brought on by Healthcare Reform Act regulations that put medicare and medicaid reimbursements at risk.
For more information on UV Flash or Midbrook's infection control line, contact Midbrook Medical at (517) 787-3481 or email sales(at)midbrook(dot)com for more information on how you can get a UV Flash for your facility.