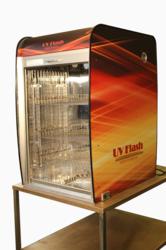 Jackson, MI (PRWEB) April 23, 2013
Solve Corporation, successfully selling as both manufacturer and distributor within the Japanese Medical industry for 40 years, has recently signed an exclusive agreement to market innovative products offered by Michigan based company, Midbrook Medical.
Solve, located in Kanagawa, Japan is a worldwide marketing company that focuses on cardiovascular, endoscopy and neurological surgery. Some of Solve Corporation's products consist of retractor systems and pressure monitoring components as well as ultrasound endovascular systems, compression stockings and ventilators. Solve's products include not only medical products by also home care, nursing and consumer products as well.
Solve's interest is to introduce Japan to Midbrook Medical's more innovative products which are designed to decrease the spread of infection within the health care setting.
Specifically, Solve sees excellent potential for the Midbook Tempest Ultrasonic Imported Flush Cleaning System and ported flush cleaning system which has gained widespread appeal in the United States and Latin America for removing bio-burden from the interior of long narrow surgical instruments.
In addition to the Tempest, Solve will also provide the patented UV Flash germicidal light station to the Japanese market. The UV Flash uses ultraviolet light in a patented configuration in order to achieve 4 log reduction of bacteria including the superbugs C.Diff, Staph and MRSA.
Midbrook plans to continue to forge agreements with successful distribution networks to more efficiently offer their products to healthcare markets throughout the world.
For more information on Midbrook Medical's line of Infection Prevention Products contact a representative at (800) 966-9274, by email at sales(at)midbrook(dot)com, or by visiting the Midbrook Medical website at http://www.midbrookmedical.com.