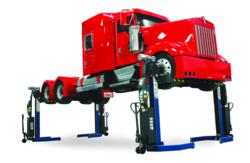 Pinckard, Alabama (PRWEB) February 26, 2013
2012 was a record breaking year for MAHA USA; with the highest revenue in the company's history. But they're not stopping there. Moving forward into 2013, MAHA USA is partnering with their community's local businesses to produce an image campaign with the area's premier cinematographer, Kennedy International Studios. MAHA USA wants the world to know they are proud to be one of the few American manufacturers who make their Mobile Column Lifts from start to finish in the USA; all from their facility in Pinckard, Alabama.
In addition to record breaking revenue, MAHA USA has increased its manufacturing capacity and is now producing hydraulic 2-post automotive lifts for the entire MAHA Group. In the midst of a hard economy, MAHA USA has been fortunate enough to continue growth and is one of the few companies able to gain employees.
For more information about MAHA USA's American made Mobile Column Lifts, visit their website.