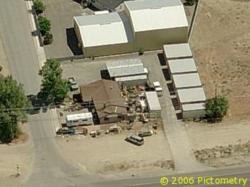 "The move took a lot of work, but it's worth it because the space is all our own, and it's arranged to fit our needs better than before." -- Dave Silvernale, Manager
Carson City, Nevada (PRWEB) May 15, 2013
In April, after nearly fifteen years, of working from rented facilities, the Modern Fence Technologies Facilities and Fleet team purchased a new property and relocated their West Coast Sales and Distribution center from Reno, Nevada to nearby Carson City. The move was undertaken to take advantage of a larger facility better suited to their operations and is a preliminary step in the long-term plan to establish a manufacturing division in Nevada.
Serving customers from the west coast and ranging to the western plains states, the sales office is managed by David Silvernale. "The move took a lot of work, but it's worth it because the space is all our own, and it's arranged to fit our needs better than before.", Silvernale said. The new location offers flexible storage and warehouse options, while providing a spacious sales office. Contacting Modern Fence Technologies West Coast operations is just as easy as it has always been, with phone numbers remaining the same. Call (775) 331-3331 to speak to David any time, or toll-free during business hours at (888) 613-8146.
While there are still improvements being made to the exterior of the building, the office is open and ready for business. "Most customers didn't even notice the move because there was no downtime," David Silvernale pointed out. "Phones were forwarded to our East Troy headquarters so customers were able to place orders during the move."
As a manufacturer and distributor of American made hardware and accessories for the professional fence industry, Modern Fence Technologies has seen business surge recently on modest gains in the U.S. economy, coupled with rising costs associated with importing and a growing awareness of the distinct quality advantages of American made products, and found the need for more efficient space to keep up with customer demand. The ability to process and ship orders out of the West Coast Operations Center is critical to meeting Modern Fence Technologies commitment to controlling shipping costs and lead times for customers.