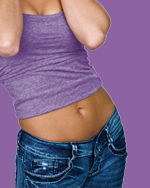 At Perimeter Plastic Surgery, we offer women a special mommy makeover procedure that includes a tummy tuck combined with another procedure, with 15% off the second procedure
Atlanta, GA (PRWEB) September 19, 2012
Dr. Mark Deutsch, board certified plastic and reconstructive surgeon of Perimeter Plastic Surgery in Atlanta, is featured in the September issue of Atlanta Parent Magazine for his mommy makeover procedure. The article discusses how Dr. Deutsch helps women who have children to get their bodies back in shape when diet and exercise just aren't enough.
A mommy makeover is a combination of plastic surgery procedures for the tummy area and the breasts, since these areas are most affected by pregnancy and breast-feeding post-pregnancy. A mommy makeover typically entails a tummy tuck, or liposuction in the abdomen area, combined with either breast implants or a breast lift. Dr. Deutsch is quoted in the magazine about the purpose of getting a mommy makeover procedure: "It's for someone who is finished having children and she feel she wants to restore her breasts and abdomen to the way they were before having kids."
The article in Atlanta Parent Magazine states that last year, more than 12 million women in the country said "yes" to a mommy makeover procedure to look the way they did pre-baby. "The tummy and the breasts are the biggest problem areas for women after having children," states Dr. Deutsch. "At Perimeter Plastic Surgery, we offer women a special mommy makeover procedure that includes a tummy tuck combined with another procedure, with 15% off the second procedure," says Dr. Deutsch. "It's a great way for interested patients to fix their problem areas in an affordable way."
Perimeter Plastic Surgery has two locations: one in Atlanta, Georgia and one in Fayetteville, Georgia. Dr. Deutsch is board certified by the American Board of Plastic Surgery and has been helping women and men feel better about their bodies for over 15 years. For more information on Perimeter Plastic Surgery and its mommy makeover special, visit the website or call 770-461-4824.