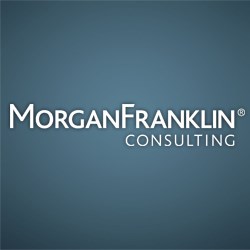 Tim's extensive background in compliance and technology exemplifies the qualities that make him an ideal leader and resource for ISACA.
McLean, VA (PRWEB) June 19, 2013
MorganFranklin Consulting, a leading business consulting and technology solutions company based in McLean, Va., and London, announced that Senior Manager Timothy M. Grace has been re-elected president of the ISACA St. Louis Chapter. ISACA, formerly known as the Information Systems Audit and Control Association, is a worldwide association of information systems governance professionals. As president, Grace will lead the 510-member St. Louis Chapter, supporting efforts focused on assurance, security, and governance.
"I am honored to have the opportunity to serve a second term as president of the St. Louis ISACA Chapter," Grace said. "I look forward to growing our chapter's regional and national presence by continuing to educate and involve our dedicated members and professional community."
Grace served as president of the ISACA St. Louis Chapter from 2012 to 2013 and as executive vice president from 2010 to 2012. He has been a member of the professional organization since 1997. With more than 26 years of experience, Grace is a leader in the fields of information technology, internal audit, financial management, and corporate accounting. He has successfully implemented and enforced controls across industries including financial services, health care, and the federal government. Grace, a former Technology Officer/Chief Information Security Officer (CISO), has brought best practices to global organizations and helped drive solutions that strengthen and enhance existing practices.
Grace joined MorganFranklin Consulting in 2010 and has been responsible for developing the company's federal Financial Management and Performance Improvement practice in the St. Louis region. He holds the Certified in Risk Information Systems Control (CRISC) designation and is a Certified Information Security Manager (CISM), Certified Information Systems Auditor (CISA), Six Sigma Green Belt, and Certified Internal Auditor (CIA).
"MorganFranklin Consulting is proud of Tim's hard work and well-deserved re-election as ISACA St. Louis president," said Bill Hughes, Managing Director and Public Sector Market Lead at MorganFranklin Consulting. "Tim's extensive background in compliance and technology exemplifies the qualities that make him an ideal leader and resource for ISACA."
In addition, Chris Fawcett, IT audit manager at MorganFranklin Consulting, secured reappointment to the ISACA St. Louis Chapter board of directors as a member of the Volunteer Recruitment/Leadership Development and Nomination committees for the 2013 to 2014 chapter year. Fawcett has been a member of ISACA since 1999 and a member of the St. Louis Chapter since 2007.
# # #
About ISACA
ISACA is a nonprofit, independent membership association and leading global provider of knowledge, certifications, community, advocacy, and education on information systems assurance, control and security, enterprise governance of IT, and IT-related risk and compliance. Founded in 1969 as the EDP Auditors Association, ISACA helps its members and their employers ensure trust in and gain value from information systems. ISACA has over 110,000 members in more than 180 countries. To learn more, visit http://www.isaca.org.
About MorganFranklin Consulting
MorganFranklin Consulting is an international services firm that delivers business consulting and technology solutions to public companies, fast-growing private companies, and government clients. Since 1998, MorganFranklin professionals have provided business operations, financial advisory, and IT consulting expertise and assistance across a wide range of industries. The firm's solutions focus on helping clients develop and implement strategies and plans to manage growth, achieve compliance, and transform business operations. MorganFranklin has offices in Washington, D.C., Dallas, and London, and has supported clients in North and South America, Europe, and Asia.
In 2012, MorganFranklin was named to Consulting magazine's "Best Firms to Work For" list and the Inc. 500|5000 list of the fastest-growing private companies in America. Third-party customer satisfaction surveys highlight the company's reputation for being hands-on, flexible, and skilled at bringing diverse groups together to complete projects on time and within budget. To learn more about the company visit http://www.morganfranklin.com.
MorganFranklin Consulting is the brand name referring to the global organization of MorganFranklin Corporation and MorganFranklin Limited, a UK subsidiary serving as the EMEA headquarters of MorganFranklin Corporation.