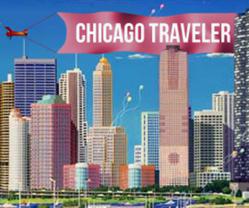 Chicago, Illinois (PRWEB) April 25, 2013
Mother's Day is just around the corner, so now is the chance for kids to demonstrate their appreciation for mom. There are so many great things to do in Chicago this May as the temperatures keep rising and the crowds start to thicken, like shows, concerts, festivals and plenty of chances to soak up some sunshine. Ensure that Mother's Day 2013 is one to remember by planning a wonderful day (or weekend) in Chicago for mom. Chicagotraveler.com is here to assist in the trip-planning by highlighting the top ways to spend Mother's Day in Chicago.
Sightseeing Tours in Chicago
Visitors can show mom just how much she means to them by taking her on a fantastic Chicago tour that highlights the famous sights and historical aspects of the Windy City. Set Mother's Day 2013 apart by going on an informative and relaxing cruise around Lake Michigan, like the Tall Ship Adventures of Chicago. Delve into Chicago's intriguing past with one of these tours that explores the colorful characters and famous buildings that have played a role in the city's history.
For something even more unforgettable, witness top Chicago attractions like Wrigley Field, Lake Michigan, the Sears Tower and the Lincoln Park Zoo from high up above, with stunning aerial views that need to be seen to be believed. The helicopters on these Chicago tours hold 2-3 people, so it will be an intimate tour, so husbands and children, treat mom to something special this year, sharing this once in a lifetime experience together.
Treat mom to luxury on land with one of the amazing limo tours of Chicago. Experience the best sights as you bask in the back of a limo, or book a sweet ride home from the airport, out to dinner or for another special event this Mother's Day. Mom deserves nothing but the best, so let someone else do the driving and sit back and enjoy Chicago with her from the back of a luxurious limousine. Find a limo in Chicago for Mother's Day (and all the great deals they're offering so you can treat mom to even more!)
Would you rather sightsee and eat at the same time? Put a twist on the traditional Mother's Day brunch by going on a Chicago food tour instead. Choose from any of the amazing food tours in Chicago to cater to mom's taste buds.
Current Shows in Chicago
Securing tickets to a matinee performance on Mother's Day is one of the best ways to surprise mom and make for a memorable day. There will be several wonderful Chicago shows playing on May 12, 2013. The Book of Mormon is the hilarious musical that swept the Tony Awards, but Oklahoma! is another musical mom singing along to will love this Mother's Day. If mom is a classical music or opera fan, the Tenors will be putting on a Mother's Day show at the Auditorium Theatre which is sure to be an impressive performance. On the Saturday before Mother's Day, get the celebrations started a little early and head to the Arie Crown Theater for the Mother's Day 70's Soul Jam.
Chicago Museums for Mother's Day
Chicago museums are renowned around the world, and heading to one of these top Chicago attractions after Mother's Day Brunch is a great way to spend an afternoon in the Windy City. The Art Institute of Chicago is perfect for art connoisseurs and novices alike, and currently there is a captivating exhibit that explores the relationship between Picasso and Chicago. The final day of this limited engagement is on Mother's Day, so be sure to squeeze a trip in to see it before it's gone! A great way to save on museum fees for the Art Institute and the other Chicago attractions at Museum Campus is to pick up a Go Chicago Card, which lets visitors bypass lines and save money on over 25 of the must-see sights in Chicago. This way, visitors can have some money leftover to treat mom to some shopping at the Magnificent Mile or to dinner at one of Chicago's fine dining restaurants.
Chicago Hotels for Mother's Day in NYC
There are a number of fabulous Chicago hotels to select from when planning a Chicago Mother's Day vacation, and deciding which one to stay at just depends on what would work best for mom and her family. For a prime location on the Magnificent Mile near plenty of luxurious shopping, delicious restaurants and easy access to all of the best Chicago attractions, the Mile North Hotel is an ideal option. With chic decor and newly-renovated rooms, this hotel stands out from the other hotels on the Magnificent Mile. Have a drink or appetizers at the C View, which is the hotel bar and restaurant with a remarkable rooftop location that provides spectacular views of the Windy City skyline. Conclude Mother's Day by admiring the Chicago night sky from this exclusive restaurant. Check out all the best Chicago hotels to treat mom to a special weekend in Chicago this Mother's Day.
About ChicagoTraveler.com:
Chicago is one of the top vacation destinations in America famous for their annual events, popular foods, architecture and top sports teams. ChicagoTraveler.com guides travelers to all the best things to do, top places to eat and deals on the best places to stay in Chicago. Lizz Riggs, editor of ChicagoTraveler.com, can help travelers find all the best things to do, places to stay and deals to take advantage of on their next trip.