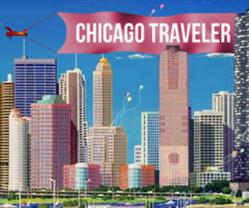 Chicago, Illinois (PRWEB) May 07, 2013
Mother's Day is the time to thank mom for all the hard work, long nights and patience she's put in over the years raising her children. A lot goes in to being a mom, and the one day a year she gets to be celebrated and thanked should be extra special. Rather than giving her a funny card and taking her to a restaurant, why not make this year an extra special occasion and for the same price as a nice brunch, go the extra mile to show her how much you care. ChicagoTraveler.com put together a list of 6 things to do this Mother's Day in Chicago that are much more special than the typical Mother's Day gift.
1. First things first, get to Chicago. Every Mother deserves a special weekend away with her children, husband or friends. Many of the best hotels in Chicago are offering great deals to make taking a trip to Chicago this Mother's Day totally affordable, and completely unforgettable for mom. Find a hotel in Chicago near all the best things to do in Chicago and treat mom to a night or weekend getaway.
2. Enjoy the best foods. Chicago food tours are way better than the typical brunch, because rather than sitting down to have a bite with mom in one crowded restaurant, they go all over Chicago to try the best pizza, hot dogs, beer and most importantly, desserts. Food tours are fun, entertaining and combine the two best things to do in Chicago - sightseeing and eating! Chicago Food Planet Tours, Chicago Tastebud Food Tours and Progressive Dining Tour are ChicagoTraveler.com's top picks for food tours in Chicago on Mother's Day, as they offer the best service and head to all the must-try restaurants.
3. See Chicago by boat. Boat tours in Chicago are one of the most popular way to see the city, whether it's on a sailboat, yacht, speedboat or water taxi. Many boat tours offer a special brunch cruise on Mother's Day, so why not enjoy a fabulous meal on a gorgeous boat, sightseeing in Chicago on Sunday morning, rather than sitting in a crowded restaurant? Tall Ship Adventures offer a variety of tours that are perfect for fun and entertaining Mother's Day in Chicago.
4. Bike Around Chicago. Things are starting to warm up in Chicago, and Mother's Day is a great time to hop on a bike and explore the city with mom. Rent a bike or check out one of the bike tours in Chicago that cover many of the best neighborhoods in the city. See all of the beautiful Chicago Lakefront on a 3-hour tour, or bike around the city, sampling food from the greatest restaurants along the way! Already have plans for the day? Check out the City Lights at Night Bike Tour and see Chicago's top attractions sparkle at night, like Millennium Park, Chicago Bean, Museum Campus and Buckingham Fountain. Many of these tours offer a 10% discount just for booking online, so check out all the tours and save by planning ahead.
5. See the city in luxury. Of course mom deserves the best! Book a limo for an hour, an afternoon or the whole evening and show mom the best of Chicago with champagne in hand. Sightseeing in Chicago by limo is so much less tiring than walking or biking around the city! Find a limo in Chicago for a tour, a ride to/from the airport or to any of the special Mother's Day events this year.
6. See Chicago from above. While walking, biking or driving around the city are all nice, many people prefer the aerial views of the city, and for good reason. See the most unforgettable views of the city from above in a fabulous helicopter tour of Chicago. These 30 minute tours run from 9am to 9pm, so there's surely a spot somewhere in the schedule this Mother's Day for a breathtaking ride over the Windy City. Of course, if this feels like too much of a thrill, the views of Chicago from the John Hancock Observatory or Signature Room are also wonderful.
Mom deserves to be treated to something special every day, but Mother's Day is extra special, and there's no better place to spend it than in beautiful Chicago!
About ChicagoTraveler.com:
Chicago is one of the top vacation destinations in America famous for their annual events, popular foods, architecture and top sports teams. ChicagoTraveler.com guides travelers to all the best things to do, top places to eat and deals on the best places to stay in Chicago. Lizz Riggs, editor of ChicagoTraveler.com, can help travelers find all the best things to do, places to stay and deals to take advantage of on their next trip.