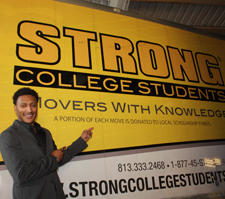 Tampa, FL (PRWEB) April 30, 2013
Shaun C. Robinson CEO of Strong College Students Moving was recently awarded for being the 29th fastest growing University of South Florida Alumni owned business. Robinson is also the youngest minority franchiser in the country and recipient of numerous business awards over his career.
 
The USF Fast 56 Awards are awarded to the fastest growing business among the University's Alumni. The Entrepreneurship of USF's alumni leads to new businesses opening globally every year.  In order to qualify the award the business must be at least three years old and a USF Alumni must chair or own the company during the eligibility period. The company must also demonstrate a quarter million or more in revenue during the previous 12 months. Selected companies are ranked by percentage of cumulative annual growth in sales or revenue (net of returns) from January 1, 2010 to August 31, 2013. The USF Fast 56 also serves as a forum for mentorship to the future generation of USF entrepreneurs.
 
Strong College Students Moving is a national moving franchise led by USF alumni and entrepreneur Shaun C. Robinson. Robinson has been recognized as the 2009 Outstanding Young Alumni at the University of South Florida, a BE NEXT Awards 2012 finalist for Black Enterprise Magazine, and recipient of the Tampa Bay Business Journal 2011 Up and Comers Award. 
Strong College Students offers full service moving for corporate and residential clients. The company is staffed with hard working students from local colleges and universities. Other services offered include storage, item donation and removal, deliveries, moving supplies, boxes, and corporate relocations.  A portion of every move is contributed to the Strong Scholars Scholarship Fund which helps student's offset the rising cost of college.
 
Strong College Students Moving has been expanding services and hiring at its headquarters in Tampa, FL. Opportunity for investment is steadily growing in this industry and franchises in premium territories still remain as investor interest rises with the improving economy.
 
"We understand that moving is a competitive industry," said Robinson, "but we have the right formula for marketing and a superior service experience that gives us a distinct advantage in any economic climate.  Regardless of the economy couples get married, families grow and blossom, and workers retire. There will always be an inspiration to move."