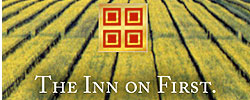 The Inn on First is proud to announce they have been awarded Gold Level status as a GreenLeader from TripAdvisor.
Napa, CA (PRWEB) May 03, 2013
The Inn on First is proud to announce they have been awarded Gold Level status as a GreenLeader from TripAdvisor. The Inn has implemented a variety of procedures throughout their entire facility that support an environmentally-friendly initiative.
Guests who visit The Inn on First will recognize the following environmentally in-room green solutions to maintain the hotel's commitment to this lifestyle. The inn uses low-flow water sources and tank-less water heaters. In the individual kitchens there is re-usable glassware instead of paper or plastic, as well as stainless steel water bottles replacing plastic water bottles. Food storage bags are composed of clear 100 percent home-compostable cellulose product made from wood fiber that causes nearly zero environmental impact.
All rooms feature energy saving light bulbs, in-room recycling bins, in-room climate control, pens that are made from recycled wood, tire and plastic. In the bathroom, guests can enjoy luxury shampoo, conditioner, and shower gel from Gilchrist & Soames in stylish dispensers. These products have honey and certified organic extracts of red clover, calendula, lemongrass and chamomile, free of any artificial colors or dyes, the BeeKind® Collection is as soothing as it is stylish. A portion of the net profits of this product supports honeybee and sustainable pollination research. Bed sheet and towel replacement throughout the Inn is by request only, saving both energy and water. The housekeeping staff replenishes each room with only high-quality 100 percent recycled tissue.
The housekeeping staff uses only household cleaning products that protect the environment, and are certified as green products by the EPA. Natural gardening products are used to keep the grounds in pristine condition.
The Inn on First is happy to contribute to an improved way of living and environmental consciousness. They are a proud member of the Green Hotels Association, the San Francisco Bay area green business association, and have been certified by the California Green Lodging Association. The Inn was also awarded the Certificate of Special Congressional Recognition for invaluable service to the community by the office of Mike Thompson, congressional representative in Washington, D.C. and a Certificate of Recognition by the California State Legislature for outstanding recycling efforts.
About the company:
The Inn on First provides romantic getaways in the Napa Valley that will surpass all expectations. They can offer landscapes of rolling hills and beautiful vineyards of the entire Napa Valley. With an environment that is one of the most sought after destinations in the country, the Inn and rooms are the perfect complement to the surrounding landscape and make for a romantic atmosphere for loved ones. For more information, please visit their website at http://www.theinnonfirst.com.