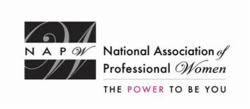 We have also adopted a female military member from each of the branches of the Armed Forces (Army, Navy, Air Force, and Marines) and will mail them a 'Ladies Care Package' by the December meeting for the holiday.
Garden City, NY (PRWEB) December 04, 2012
Members and guests of the NAPW Minneapolis-St. Paul, MN Local Chapter met for a professional networking meeting on October 16th at Flagship Franchises in Savage, MN. The group of professional women gathered for an afternoon of networking and continued its support of a local organization, Ready for Success, and for the military. Members and guests are assembling 'Ladies Care Packages' which will be sent to the Chapter's 'adopted' female military members during the holidays.
NAPW Minneapolis-St. Paul Local Chapter President Sabra Brown kicked off the meeting by welcoming members and guests to the October general meeting. She spoke to the group about the many networking and continuing education opportunities that NAPW offers and discussed the various benefits offered to members.
"There are many free or discounted seminars and business training courses throughout the Twin Cities that I encourage members to take advantage of!" said Sabra.
She also encouraged members to use the Minneapolis-St. Paul Local Chapter Facebook, Twitter, and LinkedIn Pages to inform other members about upcoming events and promotions.
"Many Chapter members also expressed interest in providing discounts for other NAPW members," said Sabra. "Attendees also wanted to post coupons on the social media sites."
The Chapter President next discussed new business including the Chapter's involvement in a number of charitable endeavors. The Minneapolis-St. Paul Local Chapter is continuing its collection of clothing for Ready For Success, a locally managed organization that collects business attire for disadvantaged Minnesota women that is suitable for job interviews and the workplace.
At every Chapter meeting, the group of professional women has been collecting DVDs and magazines for deployed military personnel in Southwest Asia. The items will be sent by mail to the soldiers serving overseas. The Minneapolis-St. Louis, MN Chapter announced another charitable undertaking, this one in time for the holidays.
"We have also adopted a female military member from each of the branches of the Armed Forces (Army, Navy, Air Force, and Marines) and will mail them a 'Ladies Care Package' by the December meeting for the holiday," announced Sabra. "We use anysoldier.com to secure our military member's addresses."
Next, Sabra spoke about the upcoming Women's Forum, which the Minneapolis-St. Paul Local Chapter will be hosting. The event will be held February 13th (time and place to be determined).
The program will feature ten-minute guest speakers, speed networking, a cocktail hour, and a business card corner. Postcards will be made and sent by January 10th.
"We will be making our 2013 first quarter meeting postcard to be sent out by December 30th," said the Chapter President. "Anyone wishing to host a meeting or event should contact me no later than December 15th."
At the close of the meeting, Sabra announced that guest Kayla Schmalz was the lucky winner of the monthly drawing for a traveling vase.
"Congratulations to Kayla and thank you to all of the attendees," she said. "I encourage every member to bring a friend to the next Chapter meeting!"
The next Minneapolis-St. Paul Local Chapter Simply Networking events will be:

November 16th at the Minnesota Grille (inside Byerly's) in Roseville from 4:30pm to 5:30pm.
December 8th at the Hopkins Activity Center in Hopkins from 10:00am to 11:00am.
The next general Chapter meeting will be held November 20th at the Minnesota Veterans home (Chapel, Building 19) from 4:00pm to 5:00pm. NAPW Minneapolis-Saint Paul, MN Local Chapter will continue to use eventbrite.com to RSVP for Simply Networking and meetings.
Members at the October Chapter meeting were:
Sabra Brown (Chapter President), Chief of Public Affairs for the 934th Airlift Wing. Her unit is the only Air Force Reserve wing in the state and is host to approximately 5,000 Army, Navy, Air Force, and Marine Reservists, as well as Air National Guard.
Faith Richardson, Foreign Exchange Student Coordinator with Nacel Open Door. Faith's organization places foreign exchange students in American homes. This cultural exchange program supports over 4,000 students and families, coming from more than 20 countries.
Pamela Thorn, Owner of Mind-Body Connection, which specializes in Alternative Holistic Health. Her skills and areas of expertise include alternative holistic health approaches for all levels-physical, mental, and emotional.
Andrea LaChapelle, Owner of LaChapelle Design. Her graphic design studio is just south of Minneapolis/St. Paul where she helps businesses brand their image through brochures, web design, newsletters, and cards.
Deb Delaney, Owner and Chief Executive Officer of Flagship Franchises. She founded the company in 2002. It focuses on connecting people with premium care providing superior adult day health services, restorative nursing, and in-home health care services.
Rachel Hoben (Chapter Vice President), Program Specialist with Girl Scouts of Minnesota and Wisconsin River Valley. She creates youth programs related to topics such as science, technology, engineering, math, healthy living, and leadership, as well as develops programs that build girls of courage, confidence, and character.
Sherri Roseen, Partner with Froehling Anderson. She is a Business Advisory Services Group Partner and has been with her current company since 1989 and in public accounting since 1985.
Terra Rasmussen, Financial Advisor with AdvisorNet Financial. She strives to create long-lasting relationships with her clients and her number one goal is to help them achieve their financial goals and dreams.
Kayla Schmalz, Coordinator with the Girl Scouts of America, attended as the guest of Rachel Hoben.
The National Association of Professional Women (NAPW) is the largest and most recognized network of female professionals. NAPW provides a forum where women can interact, exchange ideas, educate, network, and empower. NAPW Local Chapters allow members to maximize their experience through meetings, networking opportunities, and professional events.
For additional information regarding the NAPW Minneapolis-St. Paul Local Chapter and/or NAPW, please visit http://www.napw.com.