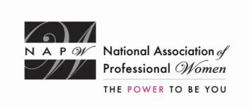 With the 12% funding cut they have endured this past year, the Center relies heavily on volunteers and donations...Our NAPW members generously collected supplies and a box of much needed items...
Garden City, NY (PRWEB) October 10, 2012
Members and guests of the NAPW Ocala, FL Local Chapter gathered on September 25th for a professional networking meeting at Mimi's Café located at 4414 SW College Road (Hwy 200) in Ocala. President Lisa Wyatt kicked off the meeting by welcoming those in attendance, and handed out NAPW materials. In an effort to grow the Chapter membership, members and guests discussed how they each could ask a friend to attend the next meeting. The women could then participate in Chapter discussions and hopefully decide to join the NAPW Ocala, FL Chapter.
"As active members, they could see for themselves the great value of being a part of such a strong women's organization that allows us to network, explain, and promote our businesses to one another," said the Chapter President.
Lisa next introduced the monthly meeting's guest speaker, Wendy Wilson, from the Ocala
Domestic Violence Center. Wendy presented on behalf of Judy Wilson who was unable to attend the meeting. Wendy spoke about the 30-year history of the Center, which houses on average over 60 women and children who stay at the Center for a period of about 12 weeks at a time.
Wendy went on to say that Marion County is 14th in Florida counties for domestic violence. The Ocala Domestic Violence Center's mission is to empower the abused women and children through counseling and by offering a protective shelter so they can move on with their lives in a safe and healthy environment. The Center's 'Stop the Hurting' domestic violence/sexual assault hotline is 352-622-8495. Adults and children of all ages are served.
"With the 12% funding cut they have endured this past year, the Center relies heavily on volunteers and donations," said the President. "Our NAPW members generously collected supplies and a box of much needed items was given to Wendy to take back to the center."
Other supplies needed on an ongoing basis include:
● Food such as meat, cheese, butter, eggs, milk, and sugar.
● Cleaning supplies such as bleach, and washing powder.
● Personal hygiene items (a good idea is to always collect the motel soaps, lotions,
shampoos, and conditioners to donate to this needy cause).
For more information, call 352-351-4009. Any members wishing to donate any of these items are encouraged to bring their donations to future NAPW meetings, and they will be delivered to the Center.
On a lighter note, NAPW Ocala, FL Local Chapter member Barbara Brooks was the lucky winner of the door prize, a $100 gift certificate. Chapter President Lisa Wyatt offered her congratulations to Barbara and also took a moment to thank her and another member for their continued support.
"Congratulations, Barbara!" said Lisa. "Also, a huge thank you to you and Frances Garcia for being at every meeting we have had so far as we establish our presence in the Ocala area."
Members and guests in attendance all agreed that they hope to see more women become active members of the Ocala, FL Chapter who would benefit from the importance of face-to-face interaction with other strong, successful women at the monthly networking meetings. It was suggested that the President use evite.com for next month's meeting to reach out to see if more members will respond and attend.
"We all want to reach out to current NAPW members and future NAPW Ocala, FL Local Chapter members as we move forward in the community to let the business world know we exist, are very successful, and have valuable services and products in great demand," said Lisa.
The meeting adjourned at 1:40pm. The next NAPW Ocala, FL Local Chapter meeting is October 23rd at noon at the usual venue, Mimi's Café. Next month's community outreach speaker will be Chapter member Barbara Brooks of R.A.M.A.L. Barbara will speak about the organization's ongoing needs.
"We are all eager to meet more of our members at our next meeting!" said the Chapter President.
In attendance at the September NAPW Ocala, FL Local Chapter meeting were Chapter President Lisa Wyatt, Barbara Brooks, and Frances Garcia; potential new members Anna Leckel from Gainesville and Regis Boatwright (a guest of Barbara Brooks); and guest speaker Wendy Wilson from the Ocala Domestic Violence Center.
The National Association of Professional Women (NAPW) is the largest and most recognized network of female professionals. NAPW provides a forum where women can interact, exchange ideas, educate, network, and empower. NAPW Local Chapters allow members to maximize their experience through meetings, networking opportunities, and professional events.
For additional information regarding the NAPW Ocala, FL Local Chapter and/or NAPW, please visit http://www.napw.com.
Follow NAPW on Facebook and Twitter.
###