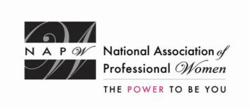 Dr. Diangar spoke about the amazing new technology that can be used to identify certain types of illnesses before they present any symptoms...She was just a wealth of information for our Chapter
Garden City, NY (PRWEB) December 05, 2012
Members and guests of the NAPW Orange County, CA Local Chapter got together for a networking luncheon on November 28th at the UCI Community Center in Irvine. The group of professional women heard a fascinating presentation on 'Unusual Symptoms and Unusual Treatments' from guest speaker and anti-aging specialist Dr. Luba Diangar, DNM, DPT.
NAPW Orange County Local Chapter President, Petra Petry kicked off the monthly meeting by welcoming members and guests, some of whom were first-time meeting attendees. She spoke about the outstanding networking opportunities available to Chapter members.
"The NAPW Orange County Chapter allows you to network with other members and grow your business," said Petra. "That is the entire premise of the Chapter, to help members connect and grow together!"
Petra introduced the afternoon's guest speaker, Dr. Luba Diangar, a Licensed Doctor of Natural Medicine, Diplomat and Member of the American Academy of Anti-Aging Medicine, Director of Corporate Wellness of LD Healthcare Systems Corporation, and Owner of 2Step2Health. She has a Master degree in Genetic Engineering and a Ph.D. in Medical Sciences. Dr. Diangar has been working for more than ten years for NASA in Houston, Texas in the Life Support Systems Projects
"Dr. Diangar spoke about the amazing new technology that can be used to identify certain types of illnesses before they present any symptoms," said Petra. "She was just a wealth of information for our Chapter."
During the Chapter meeting, the group of professional women also had plenty of time to introduce themselves and network with one another.
"Our monthly meeting was in the style of 'networking 101' and we met some new faces in our group," said Petra. "Many of us established personal connections with the other women and we were all interested in business networking!"
The Chapter President announced to members and guests that the UCI Community Center (1083 California Avenue, Irvine, CA) where they were meeting for the first time would now be the permanent meeting place for the Orange County, CA Chapter.
"Everyone was very excited to make this our permanent location for our upcoming Chapter events," said Petra. "Now, we can network and also bring our own food or have it delivered at a better cost. The flexibility is the key!"
The Chapter discussed inviting an official photographer who can commit to the group to attend future meetings and events, take photographs, and upload the pictures to the Orange County Local Chapter Page on napw.com.
"Professional moments are the testimony for our growing group." said Petra. "Having a photographer there to capture those times is important."
Petra also stressed to members and guests how essential it is to attend the monthly Orange County Local Chapter meetings so they may benefit from such things as the presentation made this month by Dr. Diangar.
"Being an active member of the Chapter means you can participate in the regular meetings, such as the one today where a very special guest came to visit with vital information for us women, and many other Chapter networking events," said Petra. "You may also always bring a guest or friend to our meetings."
The group planned meetings and dates through next July and decided to cater the upcoming December luncheon meeting ($10 contribution) on Thursday, December 13th at noon. For more information about the NAPW Orange County Local Chapter, contact Petra Petry at 949-351-0347 or visit the Chapter Page or email petra.petry(at)ltcfp(dot)com.
The following members and guests were in attendance at the November Orange County meeting:
Petra Petry, Ph.D., Long Term Care Insurance Specialist, based in Costa Mesa, licensed in CA, IL, and FL, and affiliated with the largest brokerage LTC Financial Partners, which specializes in long term care insurance nationwide. Petra is a great resource of information about how not to overbuy your long term care insurance and she will assist employers in bringing this to the workplace at no cost with additional discounts for the employees. Remember, anyone at any age, may need assistance with day-to-day living as a result of injury, accident, or illness. Health insurance or Medicare pays for medical expenses but only long term care insurance pays for extended care in or out of your home. Are you protected? Petra is available for individual or group seminars, consultations, and webinars. Contact: 949-351-0347 or visit petrapetry(dot)ltcfp(dot)com.
Mary Westphal, Sr. Mortgage Consultant from OnQfinancial Mortgages Simplified, in Newport Beach, CA . Mary was talking about update of the mortgage interest rates as per November 20, 2012. She is able to help not only with FHA home loans or flipped properties (90 days owned), but also with VA, HUD REO, HomePath Financing, USDA Rural Housing, conventional loans, and also jumbo loans (over $417,000). Contact Mary at 949-566-8580 or 866-667-3279, mary.westphal(at)onqfinancial(dot)com, or visit onqfinancial.com.
Mary Jane O'Brien, Art Director and Principal from MANGO Marketing Services, can take your business marketing to the next level. She is also a Graphic Designer for social media, SEO and has experience working with many nonprofits, skin care companies, and spas. She is very skilled in constant contact and coupon leads generation for your free WEB marketing. Please contact Mary Jane at 949-290-7853, mangomarketingservices(at)gmail(dot)com, or visit mangomarketingservices(dot)com.
First-time guest Rebecca Burton, Realtor from ZIP REALTY was invited to the November Chapter meeting by member Samantha. She is really a great source of international resources and information, considering she has passed the British Bar Exam for the Law in England. She is currently deciding if she will be able to commit to the monthly meetings and might join the NAPW Orange County, Local Chapter. To contact her directly for your real estate needs, call 714-606-2202 or email Rebecca.burton(at)ziprealty(dot)com; you can also visit ZipRealty.com/agent/rburton.
Nichole Morante, Patient Coordinator from Orange County Spinal Professionals, came to her second Chapter meeting and was very impressed by the conference room and the new location. At Orange County Spinal Professionals, they are focusing on solving the problems that cause back pain, helped by spinal decompression and free consultation including digital x-rays before heading to the last resource of spinal surgery. For your free appointment, please contact the office 714-362-5509, or direct 562-235-0258; e-mal ocspinepro333(at)aol(dot)com. The facility, which is located at 18055 Bushard Street, Fountain Valley, CA 92708, is visited by many people from all over the country.
Veronika Winski, Representative of Nerium AD: a REAL scientific breakthrough skincare product. Nerium has a 30-day money-back guarantee, because the results on your face or neck are visible the first week. Nerium International is a REAL company where you can build your dream life. To schedule a free consultation, party, or an event contact Veronika at 562-308-0695 or visit PureSkin(dot)Nerium(dot)com.
Elena BESSI, from Images by ELENA, Italian Photographer, specializes in portraits of newborns, kids, and family. For a professional portfolio or to book a winter/New Year photo shoot contact Elena directly at 949-468-0736 or email elenabessi(at)gmail(dot)com. Please visit elenabessi.com to view the personal touch and beauty of her photos.
The National Association of Professional Women (NAPW) is the largest and most recognized network of female professionals. NAPW provides a forum where women can interact, exchange ideas, educate, network, and empower. NAPW Local Chapters allow members to maximize their experience through meetings, networking opportunities, and professional events.
For additional information regarding the NAPW Orange County, CA Local Chapter and/or NAPW, please visit http://www.napw.com.
Follow NAPW on Facebook and Twitter.
###