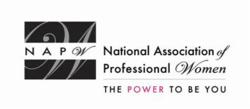 Patricia offered many valuable tips and tools about overcoming fear and nervousness; and how to better prepare for and execute a presentation, focusing on both physiological and emotional aspects of public speaking
Garden City, NY (PRWEB) December 05, 2012
Members and guests of the NAPW Westchester County, NY Local Chapter gathered on November 15th for a professional networking meeting at Mercy College in Dobbs Ferry. The Chapter hosted guest speaker Patricia Stark of Patricia Stark Communications, who taught attendees how to overcome their fear of public speaking, and welcomed Lynda Hamilton of My Sister's Place, who graciously accepted the supplies members and guests donated to local hurricane victims.
NAPW Westchester County Chapter President Sara O. Speicher welcomed attendees, including new members, guests, and the guest speaker to The Rotunda Hall, which provided a sophisticated yet intimate backdrop for the meeting. She thanked everyone for being so generous in their donations to local hurricane victims and for supporting the important work of My Sister's Place.
"This month, in collaboration with My Sister's Place, we held a supply drive to help local women, girls, and families whose living conditions were further compromised, including having their transportation challenged and losing many of their supplies, in the recent storms," said Sara.
Sara then introduced Lynda Hamilton of My Sister's Place (MSP), who addressed the group with a few words about the supply drive and the organization.
"For over 35 years, My Sister's Place has relied on the support of our community friends and partners in order to provide holistic services to victims of domestic violence. On behalf of all served, we thank you," Lynda said.
MSP's mission is to engage each member of society in his or her work to end domestic violence, so that all relationships can embrace the principles of respect, equality, and peacefulness. MSP's 24-hour hotline number is 1-800-298-7233 (safe). Visit their website at mspny.org.
Crystal M. Cutler, the Westchester County, NY Local Chapter Vice President introduced the meeting's guest speaker, Patricia Stark of Patricia Stark Communications (patriciastark.com). Patricia is a Media Trainer and Public Speaking and Communications Coach. She has worked with over 1,000 corporations as a Moderator, Trainer, and Spokesperson for corporate media productions both on camera and on stage. She is certified in Eclectic Cognitive Behavior Therapy to further help clients overcome the fear of public speaking and address performance anxieties.
As someone who overcame a fear of public speaking, Patricia was able to identify with some of the members of the audience when she addressed the importance of verbal and nonverbal communication. She illustrated, with a set of examples, how posture, eye contact, voice, and body language influence one's perception of us, as well as one's self-confidence.
"Patricia offered many valuable tips and tools about overcoming fear and nervousness; and how to better prepare for and execute a presentation, focusing on both physiological and emotional aspects of public speaking," said Sara.
The Chapter President took a few moments to announce the newest Chapter Members and Committee Members:

Secretary - Natasha V. Aviles, I Tint NY
Events Committee - Penelope Carr, NetApp
Membership Committee, Chapter Photographer - Janet Rodriguez, Mary Kay Cosmetics
Membership Committee Member - Regina Snyder, Oxford University Press
Next, Sara revealed the results of the 2012 Westchester County, NY Chapter Survey completed recently by Chapter members.
"Marketing, social media, and leadership skills were all indicated as topics members want to learn more about," said Sara. "I invite everyone to recommend professionals, coaches, speakers, and experts in these areas who could speak at a future Chapter meeting."
Before closing the November networking meeting, the Chapter President reminded the group that the Westchester County Chapter will come together for a Holiday Mixer with a holiday grab bag gift exchange.
"''Tis the season, so please join us on December 20th at 6:30pm in Caffé Azzurri for our holiday celebration!" said Sara.
Attendees at the November Westchester County, NY Local Chapter meeting were:
Althea Kay, CNN; Angelique M. Diaz, Pace University; Crystal M. Cutler, Legal Shield; Debora Coleman Johnson, CCO/CCLC; Janet Rodriquez, Mary Kay; Lin Simeti, Patricia Stark Communications; Lynda R. Hamilton, Philanthropy Mentor; Mary F. Palmer, CustoMary Creations LLC; Nadiya Goodman, Nadiya Hmelivska Jewelry; Natasha Aviles, I Tint NY LLC; Olga Rivera, Os Touch; Sara O. Speicher, VBM Pro; Sher Gregory, Sheri Gregory, Inc.; Victoria DePaolo, Charles Schwab; and Thelma Jones, Options for Wellness.
The National Association of Professional Women (NAPW) is the largest and most recognized network of female professionals. NAPW provides a forum where women can interact, exchange ideas, educate, network, and empower. NAPW Local Chapters allow members to maximize their experience through meetings, networking opportunities, and professional events.
For additional information regarding the NAPW Westchester, NY Local Chapter and/or NAPW, please visit http://www.napw.com.
Follow NAPW on Facebook and Twitter.
###