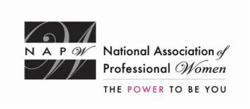 Members and guests were very excited about discussing the mentoring and charity programs we are working on,
Garden City, NY (PRWEB) May 09, 2013
Members and guests of the NAPW Gardena, CA Local Chapter gathered on April 25th for a professional networking dinner meeting at Paradise Restaurant, a popular, family-owned restaurant in Gardena.
The group of professional women was inspired by the evening's guest speaker Melinda Blue-Taylor, who spoke of her passion for helping other women succeed.
Members and guests also discussed how they could support and mentor young women from a local homeless shelter.
Gardena Local Chapter President Laura Manyweather kicked off the meeting by welcoming everyone, including a number of new members. She briefly spoke about the Gardena Chapter meeting agenda and their Facebook Page.
Members were asked to update their LinkedIn pages, add a photo to their profile if they didn't already have one, and "like" the Chapter on its Facebook Page. Laura also shared with the members the goals and objectives of the Chapter.
"Members and guests were very excited about discussing the mentoring and charity programs we are working on," said the Chapter President.
Laura announced that the Gardena Chapter would be opening Chapter Board positions such as, and not limited to: Secretary, Charity Coordinator, and Social Media Coordinator. She encouraged all members to consider running for one of these positions.
The Chapter President then invited the guest speaker to begin her presentation.
Melinda Blue-Taylor, of Transamerica Financial Advisor, Inc., spoke to members and guests about the importance of securing their futures as small business owners. Ms. Blue-Taylor discussed in detail the barriers women face when it comes to finances. A former Nurse Practitioner, she transitioned from her career six years ago and never looked back.
"Melinda's passion for helping people, and especially women, was evident at the meeting when Melinda offered all the women in attendance a free financial analysis to get everyone started on their journey of financial security," said the Chapter President.
Some of the goals of financial advising that the guest speaker spoke about included being financially prepared for retirement, saving for a rainy day, reducing debt, and being financially sound.
After the presentation, the group of professional women inquired about the Chapter developing a mentorship program.
"The Gardena Chapter will be working with one of the local women shelters to assist young women who need a little guidance in the right direction," said Laura.
The Chapter President spoke about how she is currently mentoring a young lady who aspires to join the organization next month.
Chapter member Georgia Levy will be heading the search for a local women's group home/shelter that the Chapter could work with to develop a mentoring program.
The Gardena Chapter's next meeting will on May 23rd at Paradise Restaurant at 6:30-8:00pm.
Many local corporations hold after-hour meetings at the restaurant. Laura told the group of professional women the meeting agenda will be emailed to members and said the meeting will be posted on the Gardena Chapter Page and its Facebook Page along with the photos from the last meeting.
Members attending previous meetings: Tammy Golden, Charity Ekeke, Esther Daily, Georgia Levy, Ardena Brooks, Elaine Clark, and Marlene Granderson.
New members to the Gardena Local Chapter: Joray Rylee, La Tasha Wells Amerson, Rachel M. Horning, Priscilla Mays, and Laurie Barragan.
The National Association of Professional Women (NAPW) is the largest and most recognized network of female professionals. NAPW provides a forum where women can interact, exchange ideas, educate, network, and empower. NAPW Local Chapters allow members to maximize their experience through meetings, networking opportunities, and professional events.
For additional information regarding the NAPW Gardena, CA Local Chapter and/or NAPW, please visit http://www.napw.com.
Follow NAPW on Facebook and Twitter.
###