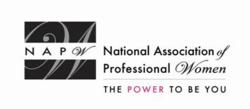 It's better to have a contract than not. Bottom line – negotiate well, write it up well!
Garden City, NY (PRWEB) February 26, 2013
Members and guests of the NAPW New York City Local Chapter got together on February 4th for a professional networking meeting at TheLadders, 137 Varick Street in Manhattan.
A panel of experts, Jane Chuang of Lee Anav Chung LLP and Rosanne Felicello of Felicello Law, P.C., discussed the various legal issues professional women may have to deal with when it comes to their businesses including intellectual property law and contract law.
New York City Chapter President Louise Newsome welcomed members and guests to the meeting. Before introducing the guest speakers, she encouraged members to continue to check out the NAPW website for news and announcements and to keep a look out for registration for the upcoming 2013 NAPW National Networking Conference.
"The conference is scheduled for Friday April 26th and will be held once again in New York City. Attendance is limited to first-come, first- served, so you want to make sure to register early!" said the Chapter President. "The conference invitation is expected to be sent out sometime in the next few weeks, plus we will be sure to post it as soon as it is out on our Facebook and LinkedIn Pages."
Louise then introduced Janine Schindler, Chapter Vice President, Laura Ruben, Chapter Secretary, and Laura Rivchun, Mentoring Committee Chair, who were all in attendance. She passed the meeting over to Janine Schindler, the moderator for the evening.
Janine briefly introduced the panelists, but allowed them to further introduce themselves, which they did, providing their credentials, background, and overview of their specialties. Rosanne's told the crowd that her focus is on litigation, while Jane said her focus is on intellectual property (i.e., trademarks, copyrights, etc.).
Rosanne kicked off the presentation by stating five important items regarding contracts: (1) magic document – this is where two people enter into a private agreement – it's simply the way things happen; (2) not all agreements are contracts; (3) it's a contract as long as you agreed on something, not necessarily what the outcome being, or cost of, money; (4) a well-drafted contract can protect you and; (5) if all else fails, go to court.
"It's better to have a contract than not. Bottom line – negotiate well, write it up well!" she told the crowd.
Jane then provided an overview of what is considered intellectual property or "IP" and how it pertains to the law. IP could include things such as trademarks, copyrights, registering something, and patents. She explained that there are different types of patents: (1) Design Patent - lasts 14 years; (2) Utility Patent – lasts 20 years and; and (3) Plant Patent – lasts 20 years.
They both reiterated that having a lawyer on hand when involving contracts is important, especially if the situation is dealing with a significant amount of money, or potential liability, and/or if it affects at least 10% of your business. They advised the group of professional women not to use contract templates because not all information on the template applies to every unique situation. Make sure what you want to accomplish is clearly stated in your contract, they said. A copyright is inexpensive and you can register your brand or company name online. If you have a brand, register it!
The guest speakers recommended the following resources: findlaw.com; NYS Law – all online posts:ypdcrime.com/index.htm; nysegov.com/citguide.cfm?superCat=129&cat=150&content=main; avvo.com where you can ask a question to lawyers, rate lawyers; and nolo.com.
The Chapter President made a number of announcements during the Chapter meeting including the engagement of Amanda Augustine who was the host for the evening, as well as the host of several other Chapter meetings held at TheLadders.
"Congratulations, Amanda, from all of us at the New York City Local Chapter!" said Louise, who also welcomed the many new Chapter members who attended the February meeting.
Laura Ruben, New York City Local Chapter Secretary chose from those attendees present the name of the member who would be in the next Member Spotlight in the March newsletter. She announced that Becky Barker, who has hosted a number of Chapter meetings at her Met Life office on Park Avenue, will be in the Spotlight next month.
Members who attended the February meeting included: Brenda Blake, Jessica Stack, Sandy Mitchell, Annie Zhond, Lynn Haviland, Jane Bell, Liane Pei, Michelle DeBard, Nancy Collier, Janice Rimler, Etta Jackson, Kim Korte, Kristine Arutyunyan, Amanda Augustine, Becky Barker, Mary Ann Larsky, Janine Schindler (Chapter Vice President), Roseann Felicello (Speaker), Jane Chuang (Speaker), Laura Ruben (Chapter Secretary), Laura Rivchun (Mentor Committee Chair), and Louise Newsome (Chapter President).
The National Association of Professional Women (NAPW) is the largest and most recognized network of female professionals. NAPW provides a forum where women can interact, exchange ideas, educate, network, and empower. NAPW Local Chapters allow members to maximize their experience through meetings, networking opportunities, and professional events.
For additional information regarding the NAPW New York City Local Chapter and/or NAPW, please visit http://www.napw.com.
Follow NAPW on Facebook and Twitter.
###