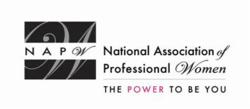 Action steps will allow you to accomplish your goals.
Garden City, NY (PRWEB) April 23, 2013
Members and guests of the NAPW San Antonio, TX Local Chapter gathered on April 9th for a professional networking meeting at Brio Tuscan Grille in San Antonio.
Guest speaker Pamela Taylor, CEO and Founder of Dress for Success San Antonio spoke to the group of professional women about the nonprofit organization that the Chapter has chosen to support this year.
Life Coach Kassandra Lifttlejohn, also a guest speaker, delivered an insightful presentation on goal-setting.
San Antonio Local Chapter President Cynthia Gomez opened the meeting by extending a warm welcome to all members, guests, and guest speakers.
She announced how excited she was to have such high attendance at the San Antonio Chapter's second meeting.
"We had a very full house!" said the Chapter President.
Cynthia invited the group of professional women to introduce themselves and tell the others what they believe makes them successful.
After encouraging members and guests to put their business card into the fishbowl for a chance to win one of two prizes, the Chapter President introduced the evening's first presenter.
"Pamela Taylor is the Founder and CEO of Dress for Success San Antonio," she said.
"Dress for Success is the charity the San Antonio Local Chapter has chosen to support this year and we are planning a fundraiser for the organization in the near future."
Ms. Taylor spoke to members and guests about the nonprofit organization. She told them Dress for Success is a workforce development agency and an organization that develops, nurtures, and educates women and children to be successful. It has an 80% success rate for women.
In 11 years, they have served over 65,000 women and 14,000 children. The CEO also said that Valero donated $1 million to Dress for Success and Career Dear of San Antonio, the organization for men.
"We learned that Dress for Success helps women get off of public programs and serves over 100 non-profit organizations," said the Chapter President.
"Robyn Luna is the Chapter Charity Chairperson and she will be developing our fundraising event that will raise awareness and support for this wonderful organization."
The second guest speaker for this month's meeting was Life Coach Kassandra Littlejohn. Ms. Littlejohn comes from Atlanta, Georgia. She moved to San Antonio because of her husband's job.
She was a full-time mom for 12 years. She presently works with post-adjudicated children. She helps them to understand that it's not where you start, but where you finish. She is a Business Owner and an Ordained Minister.
"Ms. Littlejohn joined for networking because she knows women help each other grow," said the Chapter President.
"She believes in sister power and practices what she preaches. She delivered a wonderful presentation on goal setting."
The Life Coach spoke to the group of professional women about how goals give direction to their dreams. She said:

Be pregnant with a dream; carry something that brings you excitement.
Just getting up isn't what life is about.
Birthing brings forth dreams. There's something more you can do, you are called to do more.
Goals are the conditioning for our dreams (like prenatal care).
Thoughts keep it in your heart. Thoughts push forth the action.
Thoughts produce action…actions produce results.
Doing the same thing over and over again causes insanity. You need to change it up to do better.
If you're not willing to put forth work, then you won't get results.
Think small and small things will happen. Think big and big things will happen.
Steven Cauffe said, "Start with the end in mind."
Dreams are the parents to possibilities.
Goal cards with instructions were distributed to the audience. Ms. Littlejohn told the women to partner with another person and exchange contact information.
"She told everyone to decide what goal they would work on and to figure out what the goal will be in three months," said the Chapter President.
"She advised us to discuss action steps to reach goals and at the end of one week, contact each other for support."
"Action steps will allow you to accomplish your goals. The very fact that you are sitting in this room, means you want to be grander," said Ms. Littlejohn.
"We think we come up with the great ideas, but it comes from heaven."
Chapter President Cynthia Gomez thanked the guest speakers for their powerful words. She then announced that at the next meeting, she will be looking for volunteers to photograph/video tape the Chapter's monthly events.
The next San Antonio Chapter meeting will be on May 14th, from 5:30 to 7:30pm.
A discussion was held about the next meeting location and it was decided that members should email Cynthia with any ideas for a location. Cynthia then thanked everyone for joining her today.
During the evening of networking and listening to the guest speakers, the group of professional women enjoyed an Italian menu.
Brio Tuscan Grille offers a very comforting atmosphere with dinner specials.
The restaurant is located in La Cantera, a contemporary shopping center in northwestern San Antonio.
At the beginning of the meeting, the following members and guests who attended the San Antonio Chapter meeting in April introduced themselves and expressed their idea of success.
Cynthia Gomez is a Realtor with First Texan Realty. She invited members and guests to her open house in Terrell Hills on Wednesday, April 10th. She is successful by God's grace and because of the relationships in her life.
Pamela Taylor is CEO of Dress for Success San Antonio. She believes one must find their passion and live it.
Kassandra Littlejohn is a Life Coach. She believes in empowerment.
Cynthia Aguirre is the Owner of Total Insurance Protection. She sells personal and commercial insurance products. She has been driven by faith in God, perseverance, and learning from others.
Elena Williard is Director of Marketing for Dental Imaging. She is originally from Russia. She has strong work ethics.
Marla Rhodes is a P & C Consultant with 28 years experience for Business Financial Group. Her answer to success is longevity and finding something you enjoy.
Carey Weisbrook is a Financial Consultant for Business Financial Group. She works with corporations on 401 plans. She has had good mentors throughout her career.
Ann Morris is Owner of Morris Marketing Communication. She also has been writing since 1981; being a writer comes before everything else. She has pursued a lot of ups and down with prayer and perseverance to do as the Lord leads.
Veronica Cawford was part of a family business for a number of years; she now works with Night Office Solutions. She attributes her success to getting up and doing your best!
Karen Tyler works for the Humane Society. She left to go to South Korea with her husband; came back to San Antonio after losing her grandson. Treat others as you'd like to be treated.
Mary Marquez is a Legal/Records Manager for Success; She likes to mentor others.
Brenda Strong is a Realtor for Century 21. She stated treating people the way you want to be treated.
Edith Melendez is a Realtor. She attributes her success to perseverance and goal setting.
Sharlene Trumet is the Owner of Life in Balance, Massage therapy.
Linda Hadley is a Financial Advisor for American General Life & Accident. Persistence, knowledge, and being a lifelong learner are her attitudes for success.
Theresa Binky sells Sapada jewelry and custom homes.
Jeri Ray works for McGraw-Hill. Her success comes from her mom and dad and being a faithful servant.
Diana Davalos is a Lawyer. She has started her own law firm. She believes her relationship skills attribute to her success.
The National Association of Professional Women (NAPW) is the largest and most recognized network of female professionals. NAPW provides a forum where women can interact, exchange ideas, educate, network, and empower. NAPW Local Chapters allow members to maximize their experience through meetings, networking opportunities, and professional events.
For additional information regarding the NAPW San Antonio, TX Local Chapter and/or NAPW, please visit http://www.napw.com.
Follow NAPW on Facebook and Twitter.
###