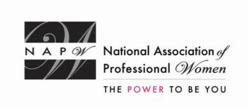 The book club format was such a success that the Chapter plans on holding other book club meetings in the future,
Garden City, NY (PRWEB) April 23, 2013
Members and guests of the NAPW St. Louis, MO Local Chapter gathered on April 8th for a professional networking meeting at Lewis Rice, a downtown St. Louis law firm located at 600 Washington Avenue in St. Louis.
In addition to networking, the group of professional women also discussed and reviewed Chapter President Lisa M. Pettis' book, All About Me.
"The book club format was such a success that the Chapter plans on holding other book club meetings in the future," said NAPW St. Louis, MO Chapter President Lisa M. Pettis, Owner of Reform, a personal training and health and wellness business.
The Chapter President kicked off the meeting by warmly welcoming members and guests.
She thanked Chapter member Bridget Hoy, who was the evening's host, for providing the meeting venue and delicious snacks for the group of professional women to enjoy.
She then turned over the meeting to Bridget and Chapter member Hania Bednarski, who led the others in a book discussion.
Members and guests began the review with a summary of the chapters of All About Me.
They asked the author a number of questions including what did she learn about herself in writing the book and what would she do differently?
The review moved into a discussion of family secrets and how people do not want to disclose problems in marriages, families, and more. Lisa explained her concern how often family secrets cover up abusive relationships.
"One of my goals for writing the book was to encourage people to speak the truth and to help them speak openly and honestly about personal issues," the Chapter President explained.
The group also brought up the issue of how the author used first names in her book. There were mixed feelings about the use of first names, but Lisa pointed out that not using names would be one of the things she would change, yet still speak about the issues at hand.
Hania and Bridget invited the other members to share their thoughts, which included: moving from past tense to present, which made the reader forget what was being said; why Lisa decided to date the guy with no teeth, and more.
Lisa mentioned in her current work, her son pointed out that the long stories in between, made him forget the point, so she would be working on that issue. However, another member pointed out that it kept her thinking as she read.
"The book review was a success!" said the Chapter President.
"I thank the women for choosing to review my book first for our Chapter book club. I will certainly keep in mind their constructive feedback."
The Chapter President announced that the next book club event will be in July. Eat That Frog by Brian Tracy, is the book that will be reviewed. Barnes and Noble posted the following overview of the book:
"The legendary Eat That Frog! (more than 450,000 copies sold and translated into 23 languages) provides the 21 most effective methods for conquering procrastination and accomplishing more.
This new edition is revised and updated throughout, and includes brand new information on how to keep technology from dominating our time."
"Be sure to pick up your copy to read and join in the book review fun at the St. Louis Chapter meeting in July," said Lisa. "And don't forget to add your favorite book to the list for future book club meetings!"
The next St. Louis Chapter meeting will be held on Monday, May 13th at 6:00pm at Lewis Rice, 600 Washington Avenue, St. Louis.
The meeting agenda is financial freedom and the guest speaker is Courtney Bond, Financial Advisor at Edward Jones.
For meeting updates, check out the St. Louis Chapter page.
The following members and guests were in attendance: Hania B Bednarski; She is a Board Certified General Surgeon with fellowship training in both breast oncoplastic surgery and hand surgery. She completed her general surgery residency training at many trauma centers in New York City.
When she completed her residency, she sub-specialized initially in hand surgery at Lincoln Hospital in the Bronx, where she also trained in many reconstructive surgical procedures–mainly breast reconstruction.
After working purely as a hand surgeon in New York for three years, she decided to further sub-specialize in breast oncoplastic surgery. She matriculated from exactly such a program in New York.
Her current services focus on comprehensive breast care. She performs all procedures from the biopsy, to the surgical resection for cure, and the final reconstruction of the breast.
Bridget Genteman Hoy; She is a Litigation and Trial Attorney at Lewis, Rice in St. Louis, Missouri. Her firm has over 150 lawyers practicing in all of the primary legal specialty areas, and is one of the major regional law firms in the Midwest.
During her career, she has helped companies of all sizes navigate legal disputes in state and federal courts around the country, including contract disputes, intellectual property disputes, personal injuries disputes, and more.
She has also assisted businesses and individuals in general corporate matters, working closely with her transactional colleagues at Lewis Rice. She makes a real effort to understand the needs of my clients so they get tailored legal assistance. She enjoys volunteering her time with numerous charities, including literacy programs for young children, and also providing legal services to those who cannot afford a lawyer through Legal Services of Eastern Missouri and pro bono programs with the federal judicial system.
LaDonna Turner, Founder and CEO of Smart Ideas Consulting Firm, LLC. She offers clients a combination of micro- and macro-services. With 17 years of experience working in human service programs at all levels including: direct client services, management and administration, she is a highly specialized and skilled human services consultant.
Courtney Bond, is a Financial Advisor at Edward Jones, which specializes in financial services.
Her skills and areas of expertise include retirement income, client relations and client services.
She received her Bachelor degree in Finance and Business Administration from Southeastern Missouri State University. She is also currently involved with Urban Financial Services Coalition & the ABC's Of Money Management.
Courtney will be sharing financial tips with the chapter in May, which will include a question and answer session, so mark your calendars!
The National Association of Professional Women (NAPW) is the largest and most recognized network of female professionals. NAPW provides a forum where women can interact, exchange ideas, educate, network, and empower. NAPW Local Chapters allow members to maximize their experience through meetings, networking opportunities, and professional events.
For additional information regarding the NAPW St. Louis, MO Local Chapter and/or NAPW, please visit http://www.napw.com.
Follow NAPW on Facebook and Twitter.
###