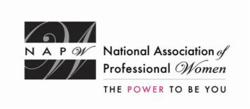 The theme of meeting was In Celebration of Professional Women...Our three dynamic and inspiring speakers provided a wealth of information about...
Garden City, NY (PRWEB) March 28, 2013
Members and guests of the NAPW Waldorf, MD Local Chapter gathered on March 19th for a professional networking meeting at Quality Printers located in White Plains.
The Chapter celebrated National Women's Month by inviting three guest speakers to share their wisdom and advice on taxes, networking, and advanced education, with the group of professional women.
"We aren't just another women's networking organization.
Our goal is to support, encourage, cross market, and most importantly, build professional and business relationships," said NAPW Waldorf Local Chapter President Tammy Wright.
The Chapter President kicked off the monthly networking meeting by welcoming members and guests to the event. She then introduced each of the guest speakers who were there to help the Chapter commemorate National Women's Month.
"The theme of meeting was "In Celebration of Professional Women," said the Chapter President.
"Our three dynamic and inspiring speakers provided a wealth of information about 2013 tax information, networking tips, and the steps needed to potentially earn a doctoral degree from Grand Canyon University."
The first speaker was Tiffany Washington, Owner of Washington Accounting Service. She provided members and guests with a helpful checklist of tax changes for 2013, a tax benefits expense deduction list for owning a business, and a handy blue organizer/portable file bag to maintain tax documents.
Delecia Eller, a Higher Education Local Recruiter for Grand Canyon University, was the second guest. She spoke to attendees about the opportunity to receive a doctoral degree in various studies from Grand Canyon University in Phoenix, Arizona through several learning options (traditional campus experience, evening courses, or online). Ms. Eller said that a person could complete her Ph.D. or Ed.D. in as little as 3.5 years, along with a dissertation.
"She pointed out that the uniqueness about Grand Canyon University is the dissertation is completed over the course of your studies versus at the end," said the Chapter President.
The evening's last guest speaker was Theresa Royal Brown, Founder of Entrepreneurs and Professionals Network. Mrs. Royal Brown provided the group of professional women with networking advice in her presentation, "How to Get More Business by Networking Correctly."
"Mrs. Royal Brown demonstrated 11 key steps to networking by engaging members and guests in the audience in role playing exercises that emphasized the steps," said Tammy.
After the speaker presentations, Chapter President Tammy thanked the three experts and Grand Canyon University for providing complimentary sandwiches, chips, and cookies from Panera Bread.
She then introduced the Chapter Committee Members, including 2013 Ms. NAPW Monique Gaskins.
"Monique also serves in the role as the Chapter's Outreach Coordinator and discussed with attendees the next 30 days of upcoming events, which consisted of various events sponsored by the Waldorf Chapter, i.e., Girls Night Out, Zumba Party in Teal – "Sexual Assault Awareness Month," and March for Babies," said the Chapter President.
Monique indicated that she will be calling each Chapter member to schedule them to profile their business at upcoming Chapter meetings and emails.
This outreach action will support the President's vision of the Waldorf Chapter supporting its member.
Tonja Brooks, Membership Liaison, provided an overview of the membership/visitor Excel database that she maintains for the Waldorf Chapter. The Excel spreadsheet is tabbed based on professional categories to help support and promote members businesses. Additionally, she will be emailing members to encourage them to come out and attend upcoming Chapter meetings.
Tammy also discussed the following President's corner topics: the criteria for 2014 Miss NAPW Waldorf; the Chapter's membership drive; an available committee position, Communication Coordinator with a one year commitment; and the upcoming 2013 NAPW National Networking Conference being held in New York on April 26th.
The next Waldorf Local Chapter meeting will be held Tuesday, April 16th at 6:30pm at Quality Printers, 10485 Theodore Green Blvd, White Plains, MD 20695.
"Our guest speaker will be Quinn Conyers, Owner of the Purse Paparazzi, who inspires, motivates and empowers emerging and expanding women entrepreneurs," said the Chapter President.
"She is leading a dynamic series entitled Clutches & Conversations that focuses on various P.U.R.S.E Principles for entrepreneurial success. Please join us. It promises to be an exciting evening!"
Attendees at the March meeting were Tammy Wright, Rhonda Johnson, Anitra Mason, Tiffany Washington, Delecia Eller, Monique Gaskins, Evon Bumbray, Kelley Perry, Theresa Royal Brown, and Tonja Brooks.
The National Association of Professional Women (NAPW) is the largest and most recognized network of female professionals. NAPW provides a forum where women can interact, exchange ideas, educate, network, and empower. NAPW Local Chapters allow members to maximize their experience through meetings, networking opportunities, and professional events.
For additional information regarding the NAPW Waldorf, MD Local Chapter and/or NAPW, please visit http://www.napw.com.
Follow NAPW on Facebook and Twitter.
###