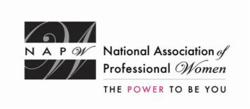 In this, I'm more than attending, I'm celebrating; another year of life, a year of having a Westchester County Chapter and most of all, a year of being a part of all of you and this dynamic association.
Garden City, NY (PRWEB) May 01, 2013
Members and guests of the NAPW Westchester County, NY Local Chapter gathered on April 18th for a professional networking meeting at Cappy Devlin International, Inc.
The group of professional women enjoyed an interactive workshop through Skype that was conducted by guest speaker Vanessa Simpkins, creator of the Transformational Breakthrough Summit.
"The guest speaker joined the group via Skype and conducted an excellent workshop during which she informed members and guests on how to attract all the clients they need using the 'law of attraction' process," said Westchester Local County Chapter President Sara O. Speicher, MBA.
The Chapter President, who will be stepping down from the position in another month, began the April networking meeting by greeting attendees who engaged in lively conversations.
She then introduced Vanessa Simpkins using Skype. Vanessa explained the three steps of the client attraction system.
In the first step, it's imperative to have clarity, focus, and allowing it in - she then demonstrated with short exercise how attendees could focus on the positive traits of their ideal clients. She emphasized the importance of consistency and positive thinking.
The second and third steps, according to Vanessa, are being visible (making offers to audience) and having systems in place for an effective relationship management. She shared some valuable insights and tips on how to implement them.
Vanessa is a "sky rocket your confidence and cash flow" Mentor and Speaker, and the Author of From Bankrupt to $900 a Day Selling Mops. Creator of the "Transformational Breakthrough Summit," Vanessa helps women entrepreneurs break through their inner blocks, skyrocket their confidence, and put proven systems in place to attract more clients and make more money doing what they love.
Once a struggling Holistic Practitioner, stuck in a bad relationship declaring bankruptcy, she is now on a mission to help entrepreneurs break free from controlling situations, relationships, and self-imposed limitations of the mind so they can "TAKE their power Back!" and create a life and business by design instead of by default.
After the workshop, a discussion ensued about the upcoming National Networking Conference on April 26th in New York City. Members were very enthusiastic about the event.
Chapter Vice President/President Elect Crystal M. Cutler updated attendees on the Conference.
"In preparation for this year's Conference, our Westchester County Local Chapter has shown itself to be more than just a Chapter but also a family. We have plans to commute in to the Conference together, meet up on the Conference floor to network, take in sessions and pause for a Chapter Newsletter photo opportunity," said Crystal.
"In this, I'm more than attending, I'm celebrating; another year of life, a year of having a Westchester County Chapter and most of all, a year of being a part of all of you and this dynamic association."
Crystal told those members attending the Conference that they will be able to find her on the Conference floor for the first half of the Thursday evening Pre-Conference Evening Cocktail and Early Registration event before she attends the gathering arranged for Chapter Presidents.
On Friday, she will be at the 8:00am Coffee & Pastry breakfast event, then scanning the registration area for Chapter members at 9:15am on her way to the 9:30am welcome address.
"At 12:30pm we'll all gather outside the Metropolitan Ballroom and take our Chapter photo before lunch," said Crystal. "Beyond that, call or text me at (914) 374-4165. I'll have my cell on vibrate and my ear/mouthpiece at the ready. Looking forward to seeing you there!"
Before the meeting concluded, the Chapter President thanked VIP member Cappy Devlin for graciously volunteering the use of her office for the event. Cappy Devlin International Inc. is a reputable travel agency that celebrated its 40th year in business last year. With Cappy's team of extremely talented, dedicated professionals, Cappy Devlin International guarantees the highest level of integrity, worldwide travel expertise, and extraordinary personal service and value to their clients from more than 100 countries.
The next Westchester County meeting will be May 9th from 6:30 to 8:00pm. Details will be announced on the Chapter Page and Facebook Page, and emailed to members.
The May meeting will also be the last one Sara O. Speicher will lead as the Chapter President.
Members attending the April meeting were: Angela Neugebauer (Bucci Airport & Limousine Service, LLC), Cappy Devlin (Cappy Devlin international, Inc.), Crystal M. Cutler (Legal Shield), Edith Barillas (Minuteman Press), Judy Garfinkel (Move Into Change), Linda Parker (Soulistic Adventures, LLC), Mary Palmer (CustoMary Creations, LLC), Natasha Galperin (M&T Bank), Patricia Oliviera (Aflac) and Sara O. Speicher (VBM Pro).
The National Association of Professional Women (NAPW) is the largest and most recognized network of female professionals. NAPW provides a forum where women can interact, exchange ideas, educate, network, and empower. NAPW Local Chapters allow members to maximize their experience through meetings, networking opportunities, and professional events.
For additional information regarding the NAPW Westchester County, NY Local Chapter and/or NAPW, please visit http://www.napw.com.
Follow NAPW on Facebook and Twitter.
###