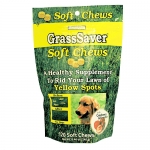 "We're thrilled to be the packaging choice for a company like NaturVet," says David Marinac, president of StandUpPouches.net.
(PRWEB) June 10, 2013
Founded by long time animal advocates, Scott and Traci Garmon, the NaturVet brand strives to deliver healthy, natural products for consumers and their pets. NaturVet's latest television commercial introduces the GrassSaver line—a unique blend of vitamins, enzymes, and well-balanced ingredients that help to prevent lawn discoloration wherever dogs go to mark their territory. GrassSaver supplements are available in biscuit, soft chew, and tablet form. At present, two of three GrassSaver products are packaged and distributed in earth-conscious stand bags, supplied by StandUpPouches.net.
"The NaturVet mission emphasizes healthy, natural living. Everything they produce is backed by scientific research to support those aims," says David Marinac, president of StandUpPouches.net. "It really speaks to our ability to provide high-quality, eco-friendly packaging. And it's always our goal to help good businesses grow."
NaturVet is a proud member of the National Animal Supplement Council. GrassSaver products carry the NASC seal as a symbol of quality assurance for consumers and companion animals. The GrassSaver line also supports NaturVet's non-profit foundation, dedicated to animal rescue and alternative, no-kill shelters. In fact, a portion of all NaturVet proceeds go toward the NaturVet Foundation and its charitable work with homeless pets.
To learn more about NaturVet and the GrassSaver supplement, visit the NaturVet website.
For more information on flexible pouch packaging design and production, visit the StandUpPouches website.
About NaturVet
For nearly a decade, the NaturVet brand has been delivering healthy, all-natural pet supplements for dogs, cats, and horses throughout the United States. Today NaturVet is one of the country's largest animal supplement manufacturers. The NaturVet family encompasses GreenTree, Pet Organics, BYS, and Overby Farm, including over two hundred branded products and an extensive private labeling program.
About StandUpPouches.net
StandUpPouches.net is a leader in flexible packaging, specializing in stand pouches—one of the fastest-growing package solutions in the market. SUP designs and supplies stand-up packaging made from multilayer film, customizable in boilable or microwavable options. SUP pouches keep products fresher, longer, while protecting contents from moisture, vapor, oxygen, odor, light, or puncture. StandUpPouches.net is a division of ABC Packaging Direct, based in Cleveland, Ohio.