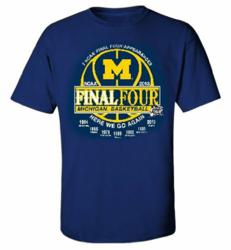 Ann Arbor, Michigan (PRWEB) April 06, 2013
The NCAA Final Four will take place today, April 6, and Sportsfanplayground.com has a variety of NCAA Final Four apparel available for all of the teams involved in the event today - Michigan, Louisville, Syracuse and Wichita State.
The store has a variety of t-shirts, hats and signed memorabilia available to commemorate Wichita State's first Final Four appearance and Louisville, Michigan and Syracuse's returns to the Final Four stage.
SportsFanPlayground.com announced that the store will also have a variety of NCAA championship merchandise that will be available on Monday Night and early Tuesday after the NCAA champion has been decided after the championship game.
For more information, please visit SportsFanPlayground.com.
On Social Media -
Facebook - Facebook.com/sportsfanplayground
Twitter - Twitter.com/sportsfanplay
Pinterest - Pinterest.com/FanPlayground
About SportsFanPlayground.com
The Sports Fan Playground is a leading provider of top sporting goods and accessories from the NFL, NHL, MLB, NCAA, WWE, UFC, Barclays Premier League, and other top organizations around the world. The website recently added a special Nike store section, as well as classic sports memorabilia, jerseys, hats, and sporting goods equipment from major professional and college sports leagues. The store recently expanded its inventory to carry the top sporting goods and equipment for all sports including MMA, baseball, hockey, football, cheerleading, golf, soccer, lacrosse, rugby, bowling, camping, hiking, snowboarding, skiing, boxing, boating, cycling and many more.
Along with the SportsFanPlayground.com website, the store also recently launched the new Development-shop.com website, which specializes in the sale of IT solutions for small business and enterprise companies, as well as consumers. Items available include modems, routers, switches, adapters, cables, computer cases, speakers, cooling fans, office products, furniture, laptop computers, desktop PCs, memory, memory cards, and more from companies such as Cisco, HP, Lenovo, Apple and others.