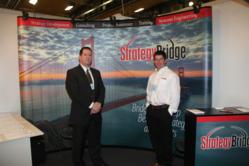 This is a natural progression in Strategy Bridge's growth.
- Mark Wilson, Strategy Bridge Founder and CEO
Winchester, VA (PRWEB) December 12, 2012
Strategy Bridge International, the leader of systems engineering professional development and strategic planning, announced its Corporate Membership in the National Defense Industrial Association (NDIA). Strategy Bridge has been a frequent presenter at the Association's annual Systems Engineering Conference and has exhibited at numerous trade shows. "The progression to a full Corporate Membership made sense for so many reasons. Strategy Bridge has been a frequent collaborator with the Association, and the NDIA is an extremely strong advocate of Systems Engineering," commented Paul AmRhein, Strategy Bridge's Vice President of Business Development. "The NDIA reputation within our client community is unmatched. And when we considered the number of Association conferences and trade shows that we attend, the member discount paid for itself."
The NDIA is a partnership between industry and government that is driving the future of defense and national security by facilitating growth, innovation, and technological advances for the defense industrial and related support base. NDIA provides a forum for the interchange of ideas and technology between government and industry. It is in a key position to shape issues and influence defense policies through its chapters, committees, and divisions covering key facets of defense. The Association has more than 56,000 individual members including more than 14,400 government members.
With customers across the Federal government, including the intelligence community, NASA and many of the "first tier" defense contractors, Strategy Bridge is already recognized by many NDIA corporate members. "And because Strategy Bridge brings a systems engineering perspective that every organization can benefit from, these partners have been seeking out Strategy Bridge to provide training and consulting in systems engineering," added AmRhein.
"Being invited to present lectures and tutorials demonstrated our value to potential clients. As an NDIA corporate member, Strategy Bridge remains visible at all times online and in print. This is a natural progression in Strategy Bridge's growth," commented Mark Wilson, Strategy Bridge Founder and CEO.
ABOUT STRATEGY BRIDGE
Strategy Bridge International enables clients to bridge the gap between strategy development and desired operating results through systems thinking, systems engineering, decision analysis, and project management. Strategy Bridge offers facilitated planning workshops and focused consulting to guide strategy and systems development, project planning, and decision-making. Strategy Bridge master instructors average over 25 years of practical on-the-job experience running complex projects and teach a full portfolio of tailored courses designed to improve organizational performance in systems engineering, project management, and leadership.