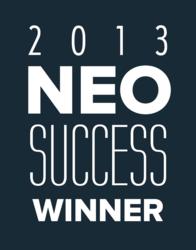 Winning the NEO Success Award would not have been possible without our dedicated employee's commitment to our loyal customers
Brunswick, OH (PRWEB) April 29, 2013
Label manufacturer and growing regional business I.D. Images was recently presented with the 2013 NEO Success Award in Mayfield Heights, OH. The public acknowledgment of the company's dedication to its client base as well as attention to manufacturing a professional grade product has provided them a winning combination to propel business in the coming years.
"Winning the NEO Success Award would not have been possible without our dedicated employee's commitment to our loyal customers," said Brian Gale, President and CEO of I.D. Images.
It's through consistent client satisfaction and competitive service that I.D. Images has risen to meet challenge after challenge to receive this honor and the company accepts this high level of recognition of a job well done with great sense of satisfaction that their continued efforts have not gone unnoticed in the region. Through exemplary teamwork, precise execution, strong staff, and loyal clients, I.D. Images experienced the necessary growth to earn the NEO Success Award.
The list of the 2013 NEO Success Award winners will be listed in the March/April 2013 issue of Inside Business. The I.D. Images profile, along with the profiles of a select group of other award-winning companies will be included.
The NEO Success Awards program annually recognizes the top-performing companies in the Northeast, OH area. NEO Success Award winners reflect the region's determination to expand and revitalize its economic status. The NEO Success Award is unique in its combined measurement of success in sales, growth and profitability.
About:
I.D. Images, a leading manufacturer of converted label media, specializes in providing label solutions for supply chain management to brand protection. The company serves varied markets including Transport and Logistics, Food and Beverage, Consumer Durables and Healthcare to name a few. I.D. Images' comprehensive product offering includes thermal transfer labels, ribbons, direct thermal, laser and Integrated labels and cards, on various paper and film or synthetic substrates. In addition, I.D. Images offers significant custom label capabilities including spot and digital printing, multi-web laminations and die-cutting. I.D. Images maintains manufacturing and distribution locations in Cleveland (Brunswick), Cincinnati, Chicago, and Charlotte. I.D. Images sells exclusively through distribution with a primary focus on packaging distributors, value added resellers and other label converters.