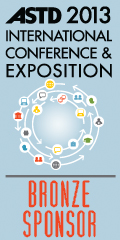 Rocky Hill, CT (PRWEB) May 16, 2013
NetDimensions (AIM: NETD; OTCQX: NETDY), a global provider of performance, knowledge, and learning management systems, will host a free session next week at ASTD 2013 International Conference & Exposition in Dallas, Texas.
The session, titled "Making the Best of Your LMS: Best Practices for Implementation, Adoption & Organizational Transformation", will start at 10:00am (Room C 145) on Tuesday, May 21st.
Guest panelists include L&D experts from Centra, Home Care Institute, and Michelin. "Our panelists will share best practices for making the best of their LMS implementations," noted Marilyn Dennis of NetDimensions, who will be moderating the session.
"We will discuss what to look for when evaluating a new LMS vendor, how to transition into a new LMS and achieve company-wide adoption, where to look for ROI, and what pitfalls you should avoid when rolling out your new LMS." The session is open to all registered attendees at the event.
NetDimensions is a Bronze Sponsor of ASTD 2013 and will be showcasing its latest talent management, mobile and content solutions at booth #519. "We would like to invite all attendees to visit our booth to meet our team, experience NetDimensions Talent Suite, and interact with a number of our clients that will be joining us at the event," said Alex Poulos, Chief Marketing Officer at NetDimensions.
NetDimensions will also be hosting a cocktail reception on the evening of May 20th. Space is limited so please come by booth #519 to get your special invitation for a chance to network with peers and industry colleagues.
The ASTD 2013 Conference will be open from May 19-22 at the Dallas Convention Center.
About NetDimensions
Established in 1999, NetDimensions (AIM: NETD; OTCQX: NETDY) is a global provider of performance, knowledge and learning management systems.
NetDimensions provides companies, government agencies and other organizations with talent management solutions to personalize learning, share knowledge, enhance performance, foster collaboration, and manage compliance programs for employees, customers, partners and suppliers.
Recognized as one of the talent management industry's top-rated technology suppliers in overall customer satisfaction, NetDimensions has been chosen by leading organizations worldwide including ING, Cathay Pacific, Hunter Douglas, Chicago Police Department, Delphi Automotive, and Fresenius Medical Care.
NetDimensions is ISO 9001 certified and NetDimensions hosted services are ISO 27001 certified.