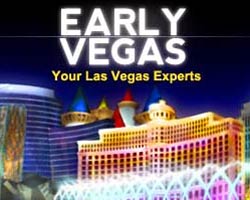 Early Vegas has compiled the top four shows to see in Las Vegas in summer 2013
(PRWEB) May 25, 2013
This summer, many Las Vegas Hotels and venues will offer new shows and host world famous acts. Beat the "Summertime Sadness" Lana Del Rey keeps singing about and plan a fun Las Vegas vacation. Not sure where to start? Early Vegas has compiled the top four shows to see in Las Vegas in summer 2013.
1. Jabbaqockeez at The Luxor Las Vegas:
This Bay Area hip hop dance group has come a long way since winning "America's Best Dance Crew" on MTV. The dancers old venue will now play host to The Blue Man group, but it appears blue face paint is out and white face masks are in.Their new Las Vegas show "PRiSM" is sure to be one of the most popular new shows on the Strip. The innovative group will perform in their brand new "Jabba Theatre" inside the Luxor Hotel and Casino. Already seen them? Jabbaqockeez insist "PRiSM" is an entirely new concept and is drastically different from their previous show at The Monte Carlo Hotel. The Jabbaqockeez's future is as bright as the Luxor sky beam. Check them out on YouTube and get excited.
2. Million Dollar Quartet at Harrah's Las Vegas hotel:
The Tony Award winning musical has found a home inside Harrah's Showroom at Harrah's Hotel Las Vegas. The Las Vegas Broadway musical is based on a legendary 1956 jam session between Johnny Cash, Jerry Lee Lewis, Carl Perkins and Elvis Presley. The theatrical comedy has been praised by both critics and audiences. The musical score showcases classic rock n' roll tunes such as "Walk the Line" and "Ring of Fire." Ariel Abbott, Editor of EarlyVegas.com, says this show is rapidly becoming a fan favorite in Las Vegas. Shows are at 7p.m nightly with alteranive times on Thursdays and Saturdays. Put on the "Blue Suede Shoes," and come see Million Dollar Quarter at Harrah's Hotel in Las Vegas.
3. The Mandalay Bay Beach Concert Series:
The Mandalay Bay Las Vegas is also offering plenty of things to do this summer. The Vegas hotel will be hosting their "Beach Concert Series," a unique outdoor concert experience music lovers won't want to miss. Some of the headliners on the eclectic summer lineup include Snoop Dogg (who currently answers to Snoop Lion) on May 25, Counting Crows on July 20 and Ziggy Marley on Sept. 1. Smash Mouth and Sugar Ray will also perform on July 6 as a part of their 2013 "Under the Sun Tour." For a major throwback, the series also includes a "Lost 80s" themed concert on Aug. 10 with acts such as A Flock of Seagulls and Wang Chung. Mandalay Bay Beach Concert Series offers a diverse music experience in a prime location.
4. Rock of Vegas at Fremont Street:
When trendy clubs and electronic dance music lose their appeal, head to Fremont Street in Downtown Las Vegas. Alternative music fans will flock to "Rock of Vegas," a free Vegas summer concert series including several bands such as Hinder on June 8, Everclear on June 29, Three Days Grace on July 4 and Third Eye Blind on Aug. 17. Currently in its 5th year, this event has become one of the most popular summer concerts in Las Vegas. All shows are at 9 p.m, but get there early to see the sights. Tourists and locals alike can take in the Fremont Street Experience on any night of the week. With nightly light and sound shows on a 1,500 feet long, 90 feet wide video screen (world's largest) suspended above pedestrians, a zip line and a neon sign museum there is no shortage of entertainment at this historic district.
This article was written by Lauren Yap, Travel Writer for EarlyVegas.com.
About EarlyVegas.com:
EarlyVegas.com is an authority on how to save money and get the best value when planning travel to Las Vegas. EarlyVegas.com searches the web for the best packages, specials, promotions, deals, and promo code offers that help travelers save and get the most value when booking hotel rooms, tours, and shows in Las Vegas.