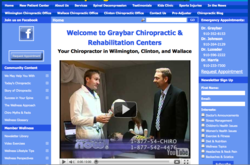 The chiropractors at the three Graybar Chiropractic Centers have all contributed their diverse knowledge to the website in order to make it a valuable resource for our patients in between visits
Wilmington, NC (Vocus/PRWEB) April 12, 2011
The Graybar Chiropractic and Rehabilitation Centers have created and designed a new website at Graybarchiro.com which has many features, resources, and tools for patients to use and navigate. The Centers are located in Clinton, Wallace and Wilmington, North Carolina and offer chiropractic care, sports medicine, massage therapy, wellness plans, and car accident injury treatments. The website for the Centers lists the services available at the three clinics, has articles on chiropractic methods and techniques, and information on the doctors themselves. Additionally, the website has several tools for patients to learn more about spinal health and creating healthy lifestyles.
Dr. Michael Graybar founded Graybar Chiropractic and Rehabilitation Centers with the initial location in Wilmington in 1995. Dr. Graybar later expanded the chiropractic clinic by adding two locations, in Clinton and Wallace, and inviting three other doctors to work with him. Dr. Maryann Luxeder is the clinic director of the Clinton Chiropractic Center, and Dr. Kevin Johnson and Dr. Christopher Harris share chiropractic duties in the Wilmington office. According to Dr. Graybar, all three of his associates provided input in the creation of the new website for the Centers. "The chiropractors at the three Graybar Chiropractic Centers have all contributed their diverse knowledge to the website in order to make it a valuable resource for our patients in between visits," explains Dr. Graybar.
Patients who are interested in learning more about the services available at the three Centers and the chiropractic physicians can visit the new website. Extensive biographies about each of the four chiropractors are accessible under the "About Us" link on the webpage, providing both professional and personal information about the doctors. The "Services" tab on the website allows patients to learn more about several of the services offered at the Centers, such as massage therapy, car accident injury treatment, wellness plans, and the Pro-Adjuster which is an instrument used in chiropractic treatment. Patients who have further questions are able to email the doctors through a link on the bottom of the website.
In addition to these articles, patients can access information directly on the website about Spinal Decompression, Kids Clinic, massage therapy, car accident and sports injuries. The website also has a "Community Content" section that provides patients with access to a library of chiropractic information, as well as a "Chiropractic Blog" where the doctors post regular articles about spinal health and wellness. Patients are able to join the website for free to have further access to articles on "Member Wellness" and to receive the newsletter.
For patients looking for interactive tools, the website has a "3D Spine Simulator" which provides information on spinal health and various videos on the website to watch. The videos cover different topics including techniques and methods of chiropractic treatment. Additionally, patients can virtually tour all three of the offices, including Wallace, through the website. Patients interested in learning about chiropractic care or looking to make an appointment can visit http://www.graybarchiro.com for contact information.
# # #