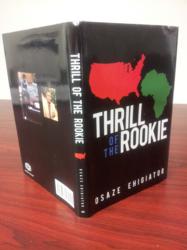 " Thrill of the Rookie" An adventure to a comic planet.
Dallas Texas (PRWEB) June 18, 2013
The new book titled "Thrill of the Rookie" talks about the political situation in Nigeria in the Mid 80's that led to the author of the book coming to the United States. The author then talks about incessant coup d'état, lack of basic human rights and corruptions which was and still a part of official government policy in his native country. As a result development was at a standstill, and individual standard of living was on a free-fall from which it could not recover.
He said that the United States became a viable option for him if he was to escape the hardship that became a way of life in his country. He arrived in the United States with less than $400 dollars in his pocket in the summer of 1985. Although he had an admission to a State university, he did not have enough money for room and board, and did not have any friend or relative willing to take him up or pick him up from the Houston International airport. He was virtually homeless for the first couple of days in a new country until he found his way to Edinburg, a valley city in east Texas close to the Mexican border. There he had a temporary accommodation only for a couple of weeks.
This book tells a story about beating the odds in spite of all adversities. It tells of how anyone can reach their goals in the United States if they apply themselves and stay out of trouble. It also let people know that it will not be an easy walk, because one has to be elastic or break in the process. The book then tells of a separate underground community inside the United States run by the pimps, homeless and the outlaws. These people are referred to as elements of the fifth ward society because according to the book "these people live and operate under a different set of codes called the "Eleventh Commandments". The author calls the book "an autobiography with a twist to it". According to him the book concentrated on his experience but not on him. He said lots of focus is placed on taking readers through the entire journey he went through and let them experience these things on their own without physically going through the process. He said that readers get the full benefits of the experiments without actually having been used as a specimen. They get to enjoy the thrills, humors and treats without feeling any of the pains or face the challenges. He concluded by saying that "the book is an adventure to a comic planet, full of excitements, challenges and humors."
Ehigiator remains largely on point in his message that the American dream is attainable but must be appreciated and nurtured…….Engaging -Kirkus Review .
A highly readable book----Ehigiator's talent for story telling is evident--BlueInk Review.
An intense, personal story of what it takes to embrace the American dream. Told with an intoxicating blend of humility, earnestness, and absurdity: 4 stars out of 5. -Clarion Review