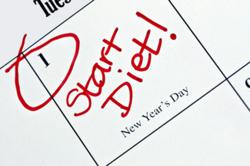 Have a bias toward action
Fort Washington, PA (PRWEB) December 12, 2012
According to Nutrisystem, the nation's leading provider of home –delivered weight loss meal plans, the groundwork for successful dieting actually needs to happen in December.
"We see it every year. There is a flurry of good intention around New Year's. But, what is really needed is not the will to do it, but the game plan to be successful," explains Meghan Nichols, a registered dietitian and member of Nutrisystem's Research & Development team
Have Bias Towards Action
"The people who will be most successful in keeping their resolution to lose weight, are the people who are planning now, so they're ready to actually start on Jan. 1 versus thinking about starting on January 1," contends Nichols. "Have a bias towards action and you'll vastly increase your odds of success."
To this end, Nutrisystem has just announced it will guarantee delivery in time for January 1 on all orders placed between now and December 18 at 5 pm eastern standard time.
"We are here as the solution people turn to when they're really serious about losing weight, even when other diets have failed them" added Mike Amburgey, the Company's Chief Marketing Officer. "We take that responsibility seriously and are glad to be mobilizing accordingly, so we can deliver the weight loss results customers are looking for."
To find out more information about Nutrisystem for the New Year and to order today, go to Nutrisystem.com or call 1-888-841-2572. You can also find more information about Nutrisystem on Facebook at facebook.com/Nutrisystem and on Twitter at twitter.com/Nutrisystem