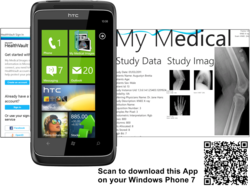 With My Medical Images App and HealthVault, I can now share my X-Ray, CT Scan studies and Medical Images with my freinds and other Doctors
New York, NY (PRWEB) January 19, 2012
Peridot Technologies announced the release of another Medical Imaging App for Windows Phone 7 devices that can browse and load medical images from patient's HealthVault Account, so patient can easily share his medical images with friends, family and other doctors.
My Medical Images is a DICOM Viewer app for Microsoft HealthVault users to load medical images and studies (like X-Ray, Ultrasound, CT Scan, MRI, PET Scan etc.) on Windows Phone 7. With this application user can securely sign in to HealthVault account to search studies within the account and then open the specific study with all of the study data and medical images, once study data and preview images for all of the series are loaded, then user may touch or click on any preview image tile to load the high resolution medical images on the full screen of the phone, where user can scroll through various images and frames within that series or pinch to zoom or pan the image
♦ Securely Sign In to HealthVault Account
♦ Search Studies within HealthVault account with Study Date, Series UID, Physician's Name or Study Description
♦ Open Study with Preview Images and Study Header Data
♦ Load High Resolution/high Quality Study Images in Full screen mode
♦ Scroll through different images / Frames of the Series with the touch and scroll of the finger on the image
♦ Pinch to Zoom
♦ Rotate phone to Rotate Image on the screen
"We are excited to announce the release of our second Medical Images Viewer app for Windows phone 7 devices and we welcome all of the PACS and Medical Imaging Solutions providers to reach us for integration of our apps, specially Easy DICOM Viewer app to their medical systems, as our Medical Imaging Solutions can add extra value to their products and solutions" – Omar Barlas (Managing Director) Peridot Technologies NY Inc.
Peridot Technologies is currently working with various medical equipment distributors, supplier and technology partners worldwide to market, sell and implement these solutions in Medical Imaging Labs, Hospitals, Clinics and Practices internationally and to Veterinary Clinics, Animal Hospital and Medical Research Institutes within United States market. To become technology partner or reseller for our medical imaging solutions please feel free to contact us via email sales@peridotec.com
Peridot Technologies NY Inc. is a leading software development company and manufacturer of high quality medical imaging solutions. The company's products and solutions provide superior image quality, ease of use and clinical flexibility to adapt to the needs of a variety of medical practices. Peridot Technologies is a privately held company with headquarters in New York, U.S.A.
###