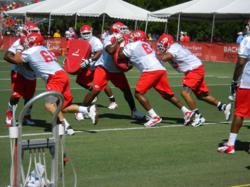 "Sudden wealth among young people can present real challenges. Combine that with short careers, NFL players' salaries that can fluctuate and tremendous social pressures, and it has created some heartbreaking scenarios," says Danford.
St. Joseph, MO (PRWEB) February 05, 2013
In an industry where professional athletes can reach wealth quickly, stories also circulate of career-ending injury or even fraudulent investments that bring an abrupt loss of that wealth. In the past 24 months, a new solution has been gathering momentum: the NFL Players Association (NFLPA) Registered Financial Advisor Program.
The goal of the NFLPA Registered Financial Advisor Program is simple – to give players access to a diverse group of qualified, pre-selected financial advisors. Family Investment Center of St. Joseph, Mo., announces that Dan Danford, Principal/CEO, has been registered as a financial advisor and has met a series of criteria prepared by the NFLPA.
"I'm really excited by this opportunity. Regional college programs have produced NFL players, and our area has connections with several pro teams. Plus I'm a big football fan," says Danford. "What could be more rewarding than sharing my financial expertise where it is really needed?"
The idea for the Financial Advisor Registration Program came from the NFL players themselves, and the principal intent of the program is to benefit the players. It was created to provide NFL players with an additional layer of protection - not just from poor financial advice, but also from financial fraud.
Although he is accustomed to contributing his expertise to sources like the Wall Street Journal, The New York Times and "ABC News," Danford doesn't take the new registration lightly. It's part of his philosophy of doing things differently in the financial investment world.
His company, Family Investment Center, operates as a fee-only financial planner, rather than working toward commission. Each member of the investment team works like a buyer for the client, managing wealth on a strictly fee-only platform. With article mentions from sources like the Chicago Tribune to Yahoo! Finance, Danford's company also stands out for addressing things like the emotions and feelings related to money, while looking at finances from a whole-family perspective.
"Sudden wealth is always an issue, but sudden wealth among young people can present real challenges. Combine that with short careers, NFL players' salaries that can fluctuate and tremendous social pressures, and it has created some heartbreaking scenarios," says Danford. "Being part of the big picture toward legitimate financial expertise is very exciting. The NFL Players Association is on the right track here, and I'm glad to be a part."
Danford's recent registration as an NFLPA financial advisor means he joins a list of names available only with a secure log-in to the official NFL players' website. A directory of NFLPA Registered Player Financial Advisors allows players and agents to search for financial experts who have met the select criteria.
While members of the program aren't officially endorsed nor recommended by the NFLPA, players and agents are provided information about the directory at various levels of their training. Registered advisors are screened, must have no pending complaints or litigation by clients, and must be clear of civil, criminal or regulatory history related to fraud. They need, at a minimum, eight years of licensed experience (qualifying licenses include FINRA series licenses, Attorney, CPA or an insurance license). They must also carry a minimum of $4 million of insurance coverage, through professional liability, errors and omissions, or a fidelity bond.
"Athletes can earn a great deal of wealth early in their lives, and it's important to make it last," says Danford. "That's a long-term investment approach, but less-experienced advisors often focus on short-term investing. I think it's an excellent time to shift that focus, and I'm proud to be a part."
Read more at athletesfuture.com.
Source: Family Investment Center
About Dan Danford and Family Investment Center
Dan Danford serves as Principal/CEO of the Family Investment Center, a full-service, commission-free investment advisory firm. Based in St. Joseph, Mo., Family Investment Center serves clients in the Kansas City, Mo., area and across an expanding region that includes 12 states.
In 2012, Danford was featured in the book "America's Top Financial Advisors." His insights into the emotions and behaviors related to money were featured in the Wall Street Journal in 2011. A 2009 Wall Street Journal article outlined Danford's unique birthday messages to clients, complete with a $2 bill inside the envelope. In 2009, Danford was also quoted on "ABC News" for his insight into how parents can protect funds for their children's college education. He was listed as one of the 150 Best Financial Advisors for Doctors in 2008 and 2009 by Medical Economics magazine. A 2006 article in The New York Times quoted Danford's insights on working with a financial advisor.
For more information, visit:
http://www.athletesfuture.com
http://www.familyinvestmentcenter.com Web
http://www.familyinvestmentcenter.blogspot.com Blog
http://www.twitter.com/family_finances Twitter
Dan Danford and Family Investment Center on Facebook