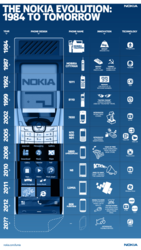 (PRWEB) October 02, 2012
Nokia are always at the forefront of mobile innovation. These innovations range from the world's first satellite call, social considerations, mobile firsts and more. All of these have been compiled into a series of eye-catching infographics that have been built – much like Nokia's global network – to be able to be localised and understood in as many countries as possible.
Background Information – The Nokia Evolution: 1984 to Tomorrow... Infographic
Remember 1984? The year that the Space Shuttle Discovery's had its maiden voyage and Nokia released the Mobira Talkman mobile phone. Nokia has played a key part in the mobile evolution of an over the shoulder device, with a limited calling function, to having your whole world in your pocket.
The Mobira was Nokia's first truly mobile device; nicknamed the "Gorba" after Mikhail Gorbachev made a call with a Nokia device in 1987. Nokia's evolution continued through the 1990's with the ability to save more contacts on your phone (up to 99 contacts in 1992, and yes that was lot back then!).
In 2008, singers Prince, Madonna, and the late Michael Jackson all celebrated their 50th birthdays – This is the year that Nokia released the 5800 XpressMusic Symbian smartphone with a year of free music downloads.
Present day: Nasa announced the landing of the Mars rover Curiosity and Nokia announces a new approach to mobile photography with PureView technology. This technology allows the best photos to be captured during the day and at night time; when you may be in the club, at the park, or just sitting gazing up at the stars. So where will Nokia go next?
With their constant evolution through the last 20+ years, and the Lumia range being full of innovative features, it will be no surprise that this will continue with pride from the iconic Finnish mobile manufacture.
Background Information – Creating a Network Infographic
In 1987, the year that Dirty Dancing came out, Nokia helped develop Global System for Mobile communication (more know commonly as GSM). Flash forward four years, Arnie's second outing as a friendlier terminator in T2 coincides with the Finnish Prime Minister making the first GSM call using Nokia-Siemens equipment.
Next is the era of global communications - while Bruce Willis was busy helping saving the world in the film Armageddon, Earth's first satellite call was made with a Nokia device. Now, in 2012, Nokia launched the first 4G phone - the Lumia 900 - promoted by Nicki Minaj in Times Square. Nokia also released a limited number of Dark Night Rises Lumia 900's with an exclusive app to boot.