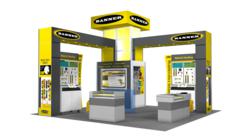 Of all the agencies we considered, nParallel was the one that balanced and fulfilled our brand expression and product display objectives
MINNEAPOLIS (PRWEB) April 03, 2013
nParallel announced its selection by Banner Engineering Corporation to design and construct Banner's new tradeshow exhibit, including 10x30-foot and 20x20-foot configurations. nParallel is a full-service agency that creates, crafts, and takes charge of exhibits, displays and fixtures that establish brands in tradeshow, retail and corporate environments. Banner Engineering designs, manufactures and distributes photo eyes, sensors and associated products for industrial and process automation worldwide.
"Our tradeshow challenge is to convey a high-level, clear and compelling image as a word-class, professional organization while also enabling our sales people to present many different type of products. Of all the agencies we considered, nParallel was the one that developed design alternatives that balance and fulfill both objectives," said Bob Schlicksup, vice president of global sales, Banner Engineering. "It is difficult to satisfy these competing demands in one exhibit design, and nParallel exceeded our expectations."
With more than 22,000 different Banner products across 40 industries, Banner offers the most complete, integrated and advanced line of photo eyes, sensors, wireless sensors, vision sensors, vision lighting, machine safety, and indicator lights. Moreover, with its commitment to rapid customization and advanced, just-in-time manufacturing capabilities, Banner's skilled application engineers deliver new solutions every day to meet customers' unique requirements for monitoring and controlling processes.
Banner's extensive and ever-expanding product line is a core strength of the company. However, in the tradeshow environment, displaying a very large number of diverse products can confuse visitors and obscure a company's overall brand image.
According to Al Jessen, 3D designer at nParallel, the agency's design concepts for Banner reflected a "show less – tell more" approach. "Our design gives Banner a sophisticated, elegant and clean image and simplifies product presentation to focus on new technology applications and products of particular interest to sales prospects at specific industry shows," he said.
"nParallel grasped the essence of our brand," said Bob Durkee, director of marketing, Banner Engineering. "They understood how our sales people and customers want to engage each other and interact with our products at tradeshows."
Banner will use its new exhibit by nParallel for the first time at INTERPHEX 2013, the leading annual pharmaceutical and biopharmaceutical tradeshow. The show will be held on April 23-25, 2013 at the Javits Convention Center, New York, N.Y. Banner will be at booth #2976.
About Banner Engineering
Over the past 40 years, Banner (http://www.bannerengineering.com) has become a global leader in photo eyes, sensors, wireless sensors, vision sensors and vision lighting, machine safety, and indicator lights. Banner has more than 3,000 factory and field representatives around the world, as well as the largest force of application engineers in the industry. Banner maintains a steadfast focus on attentive service and rapid customization. Customers count on the company's highly skilled professionals to solve new application challenges every day. Banner offers more than 22,000 products and releases hundreds of new products for industrial and process automation every year — helping customers monitor and control processes to increase efficiency, reduce costs, ensure quality, and safeguard employees. For more information, call 888.373.6767 (North America) or 001.763.544.3164 (International). Email: sensors(at)bannerengineering(dot)com. Ecommerce: http://www.banneregineering.com/buyonline.
About nParallel
Marketers and retailers know that exhibits, displays and fixtures establish their brand experience, engage customers, and energize sales – if they are designed with imagination, skillfully crafted, and managed intelligently. Too often, unfocused planning, uneven execution and unexpected costs squeeze the creative spark out of their most compelling concepts. Their alternative is nParallel, the full-service agency that creates, crafts and takes charge of exhibits, displays and fixtures designed to embody brands. Whether the venue for connecting with customers is a show, a store or a headquarters, the pros at nParallel fulfill the big-picture vision with a sharp eye focused on the small details of disciplined production and meticulous program management. For excellence without compromise, count on nParallel (http://www.nparallel.com). Call us at 763.231.4801.
###